behind the build
Winner of design et al's Best Deck Design Award and shortlisted for Motor Yacht Exterior Design 25-40 Meters Award
Alpha Custom Yachts ignored all preconceived compromises to create a yacht that is simply incomparable to all other yachts in her size range. As Giorgio Cassetta, designer of the Spritz 102', eloquently states, "To design the Spritz 102', we had to mute our instincts and approach the paper sheets with a rediscovered ingenuousness, that which is crucial to truly innovate."
Best Deck Design

2021 The International Yacht & Aviation Awards Winner

Motor Yacht Exterior Design 20-40 Meters

2021 The International Yacht & Aviation Awards Shortlisted

Motor Yacht Interior Design Under 40 Meters

2021 The International Yacht & Aviation Awards Shortlisted

Semi-Displacement or Planing Motor Yachts - 30 to 39.9m

Boat World Superyacht Awards 2021 Nominee

Best Naval Architecture Semi-Displacement or Planing Motor Yachts

2021 Design & Innovation Awards Finalist

Best New Series

2021 Design & Innovation Awards Finalist
from the sea
The Spritz 102' exterior exudes a subtle confidence while maintaining a hospitable approachability
In regards to the exterior design of the Spritz 102', the experts at the Giorgio Cassetta Design Studio state, "we challenged every notion hitherto acquired in our experience with exterior styling and laid out lines and volumes previously unseen, all while abiding to the core request from the brand, which was, 'Make everything comfortable, make everything right.'" This ingenuousness lent itself to the creation of the Spritz 102' hull design which, combined with light weight composite construction, allows for a shallow draft of just 5 feet, so adventurers can access the best anchorages and cruise in their favorite destinations across the globe. ⁠⁠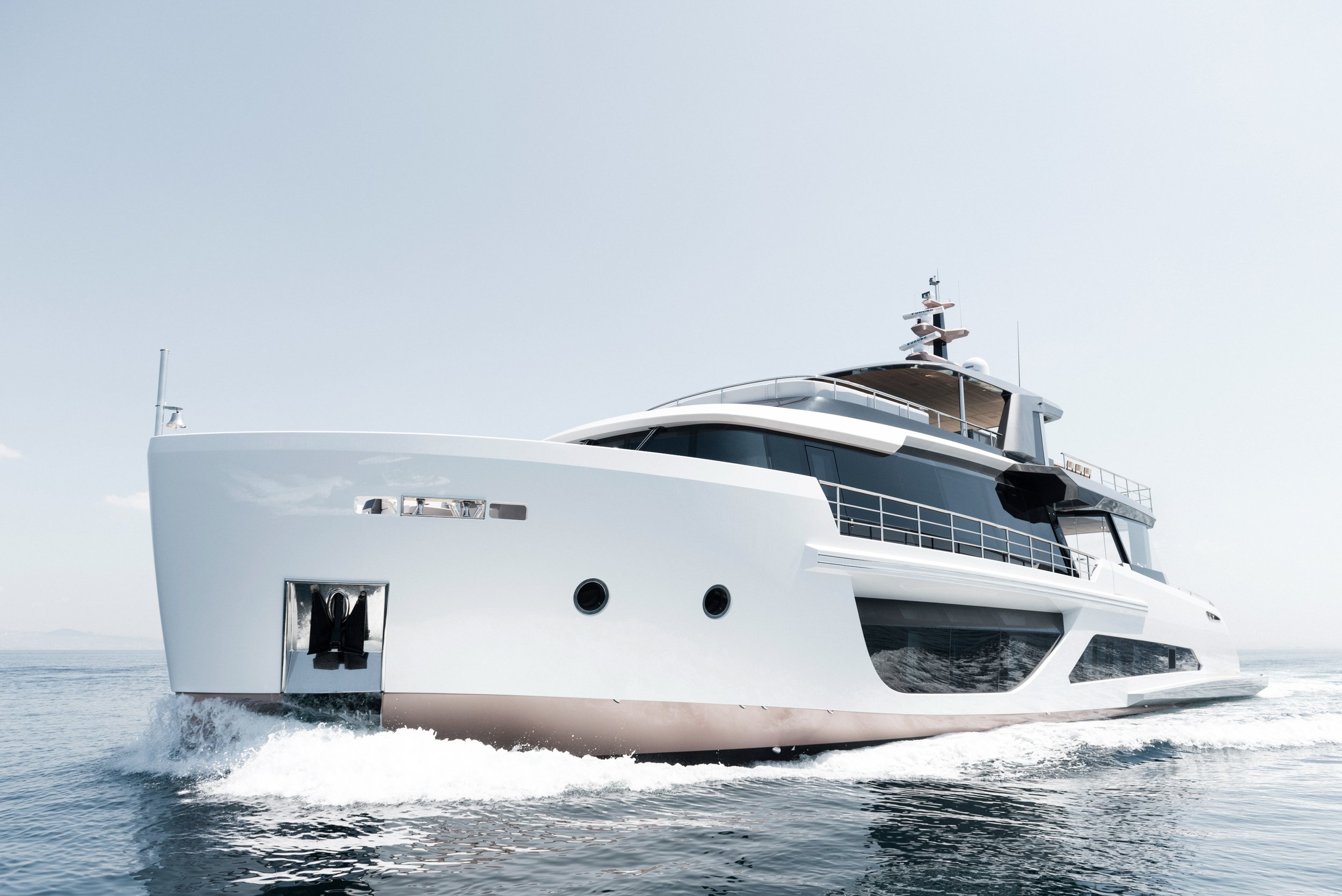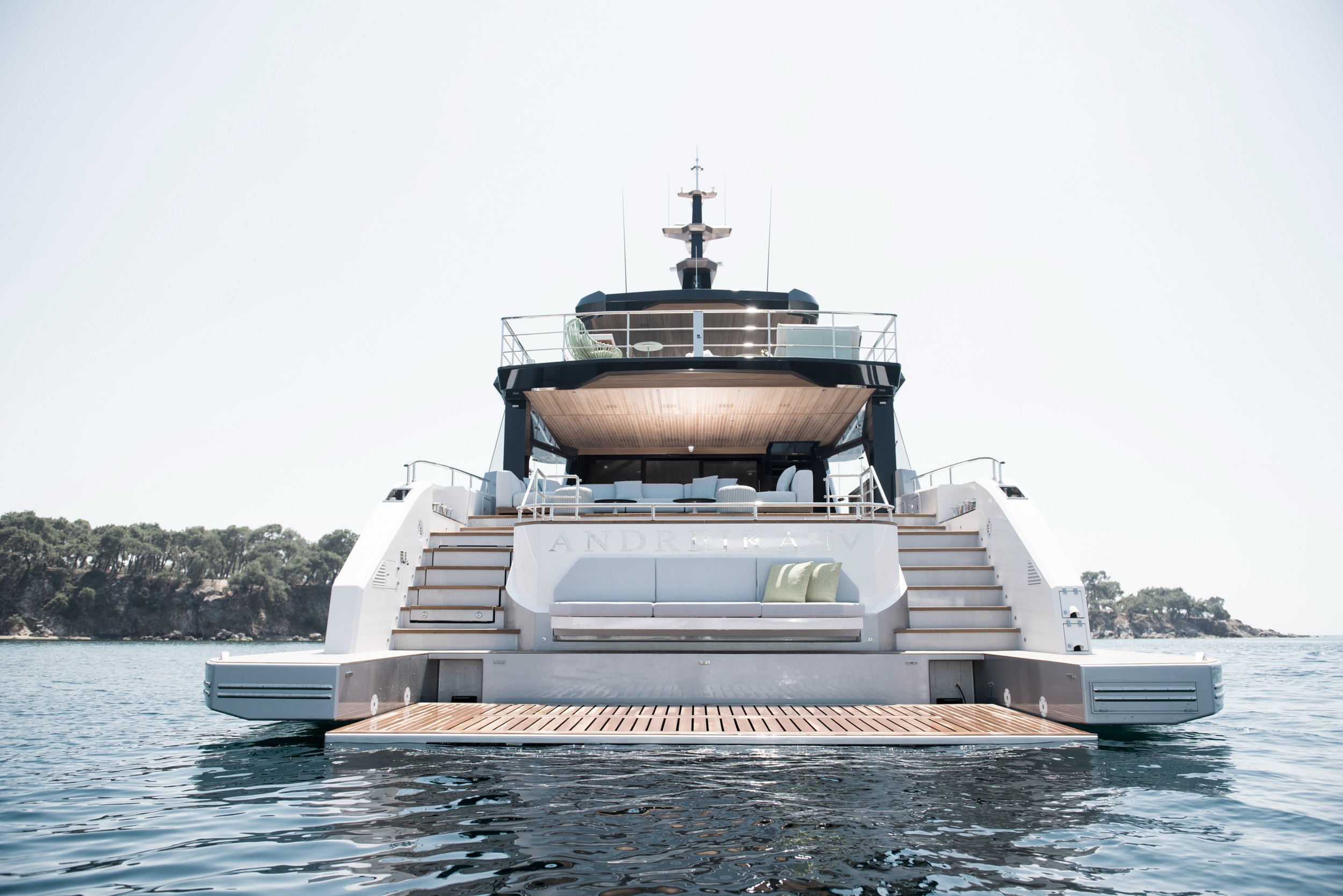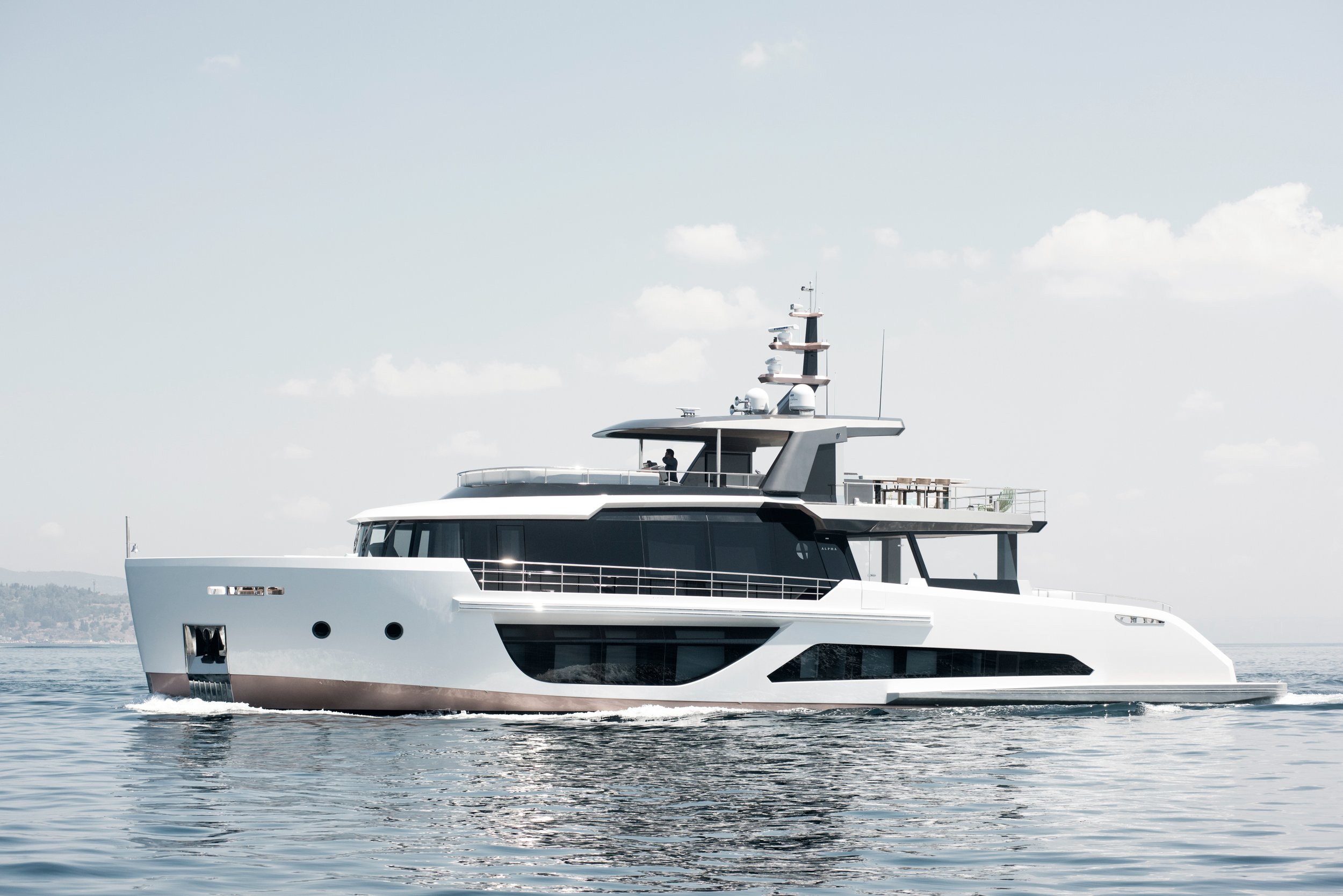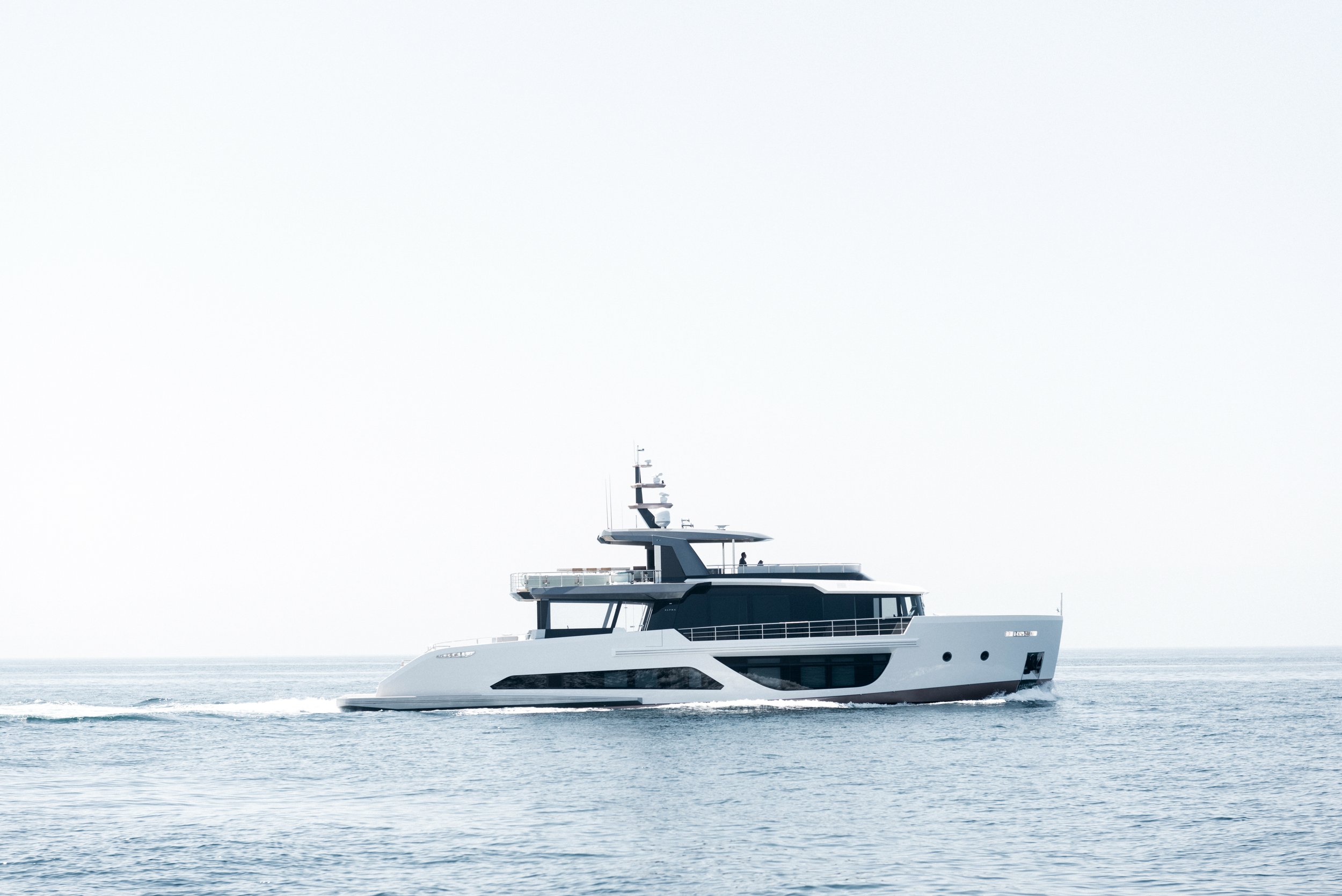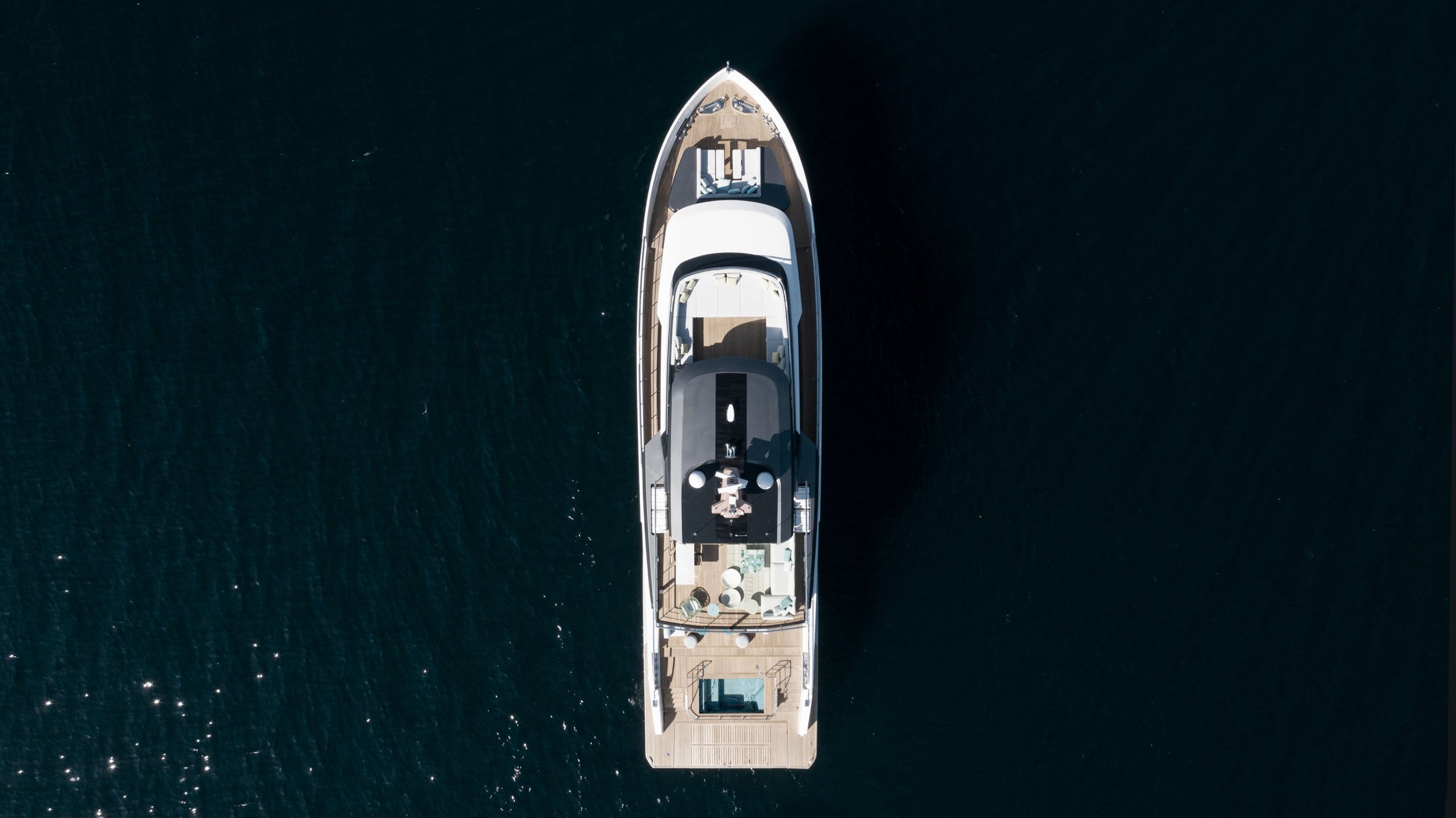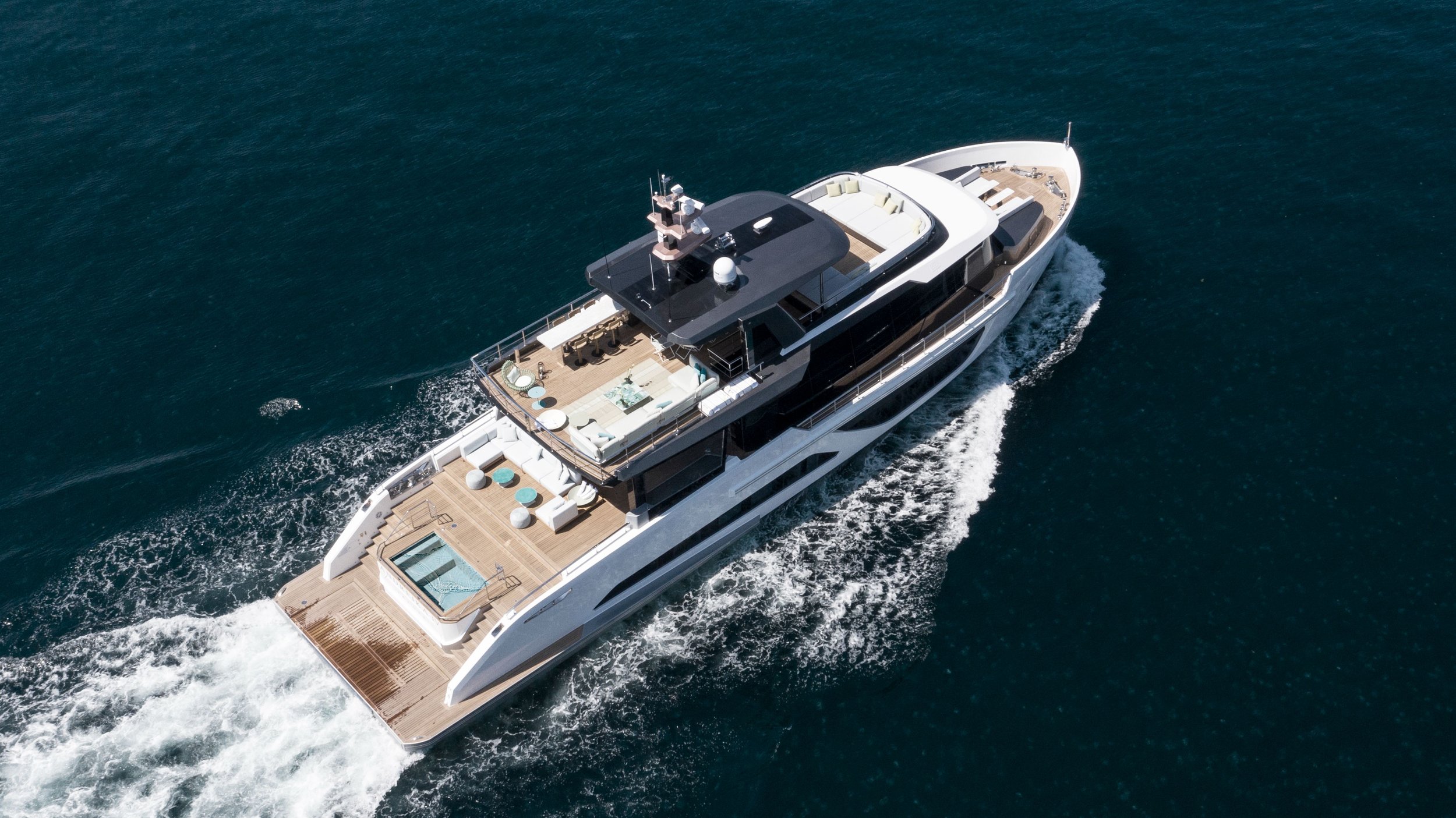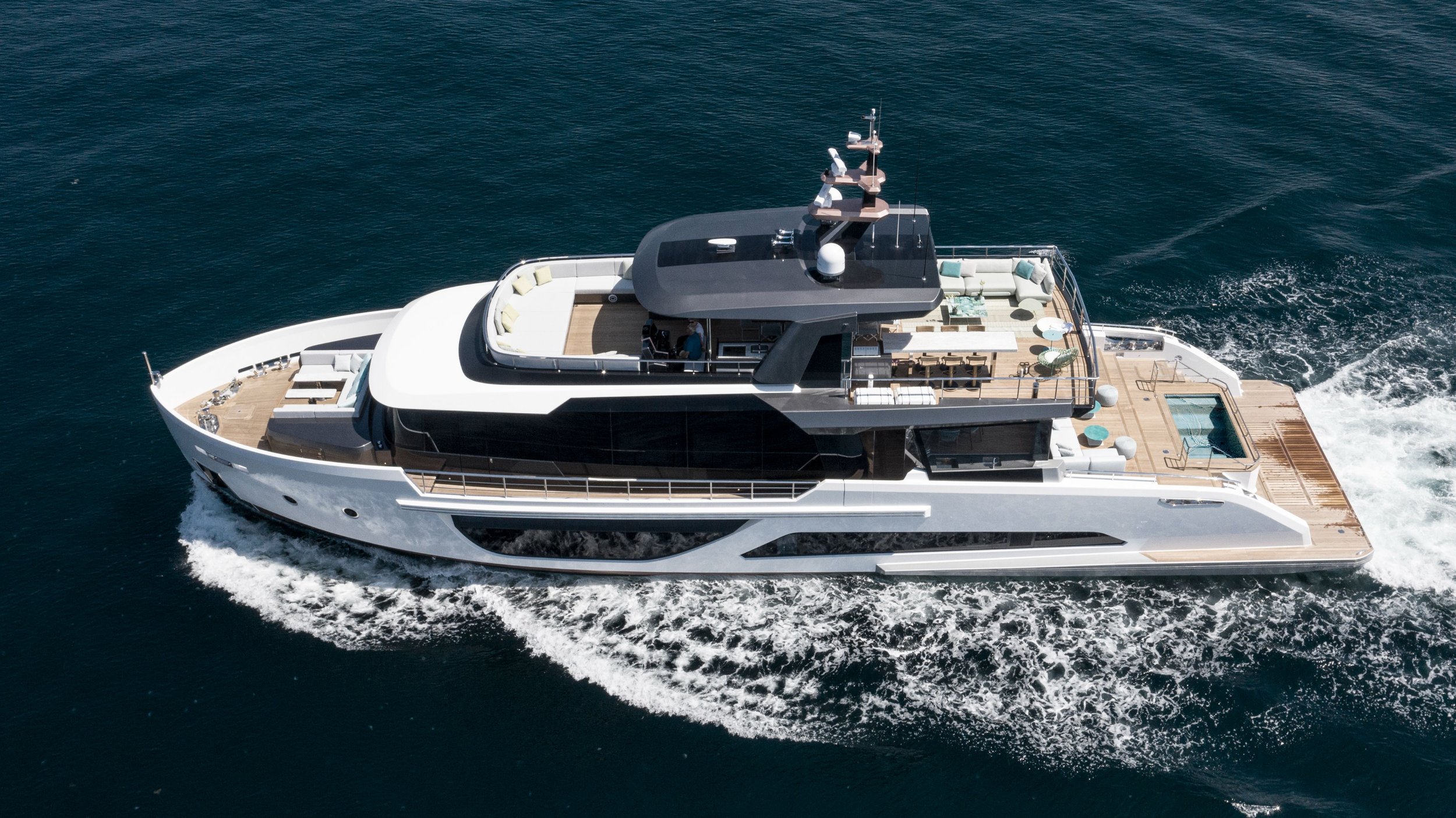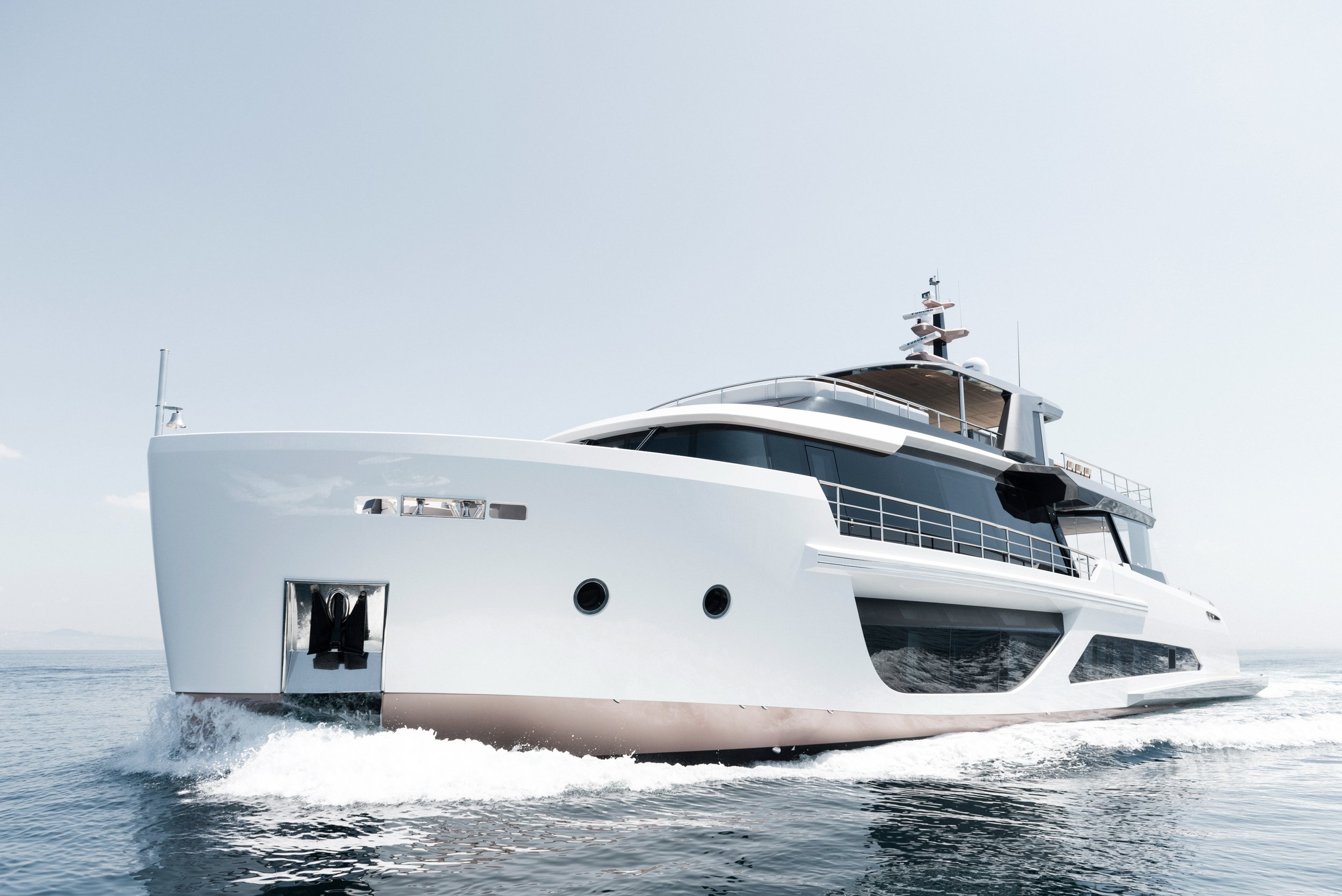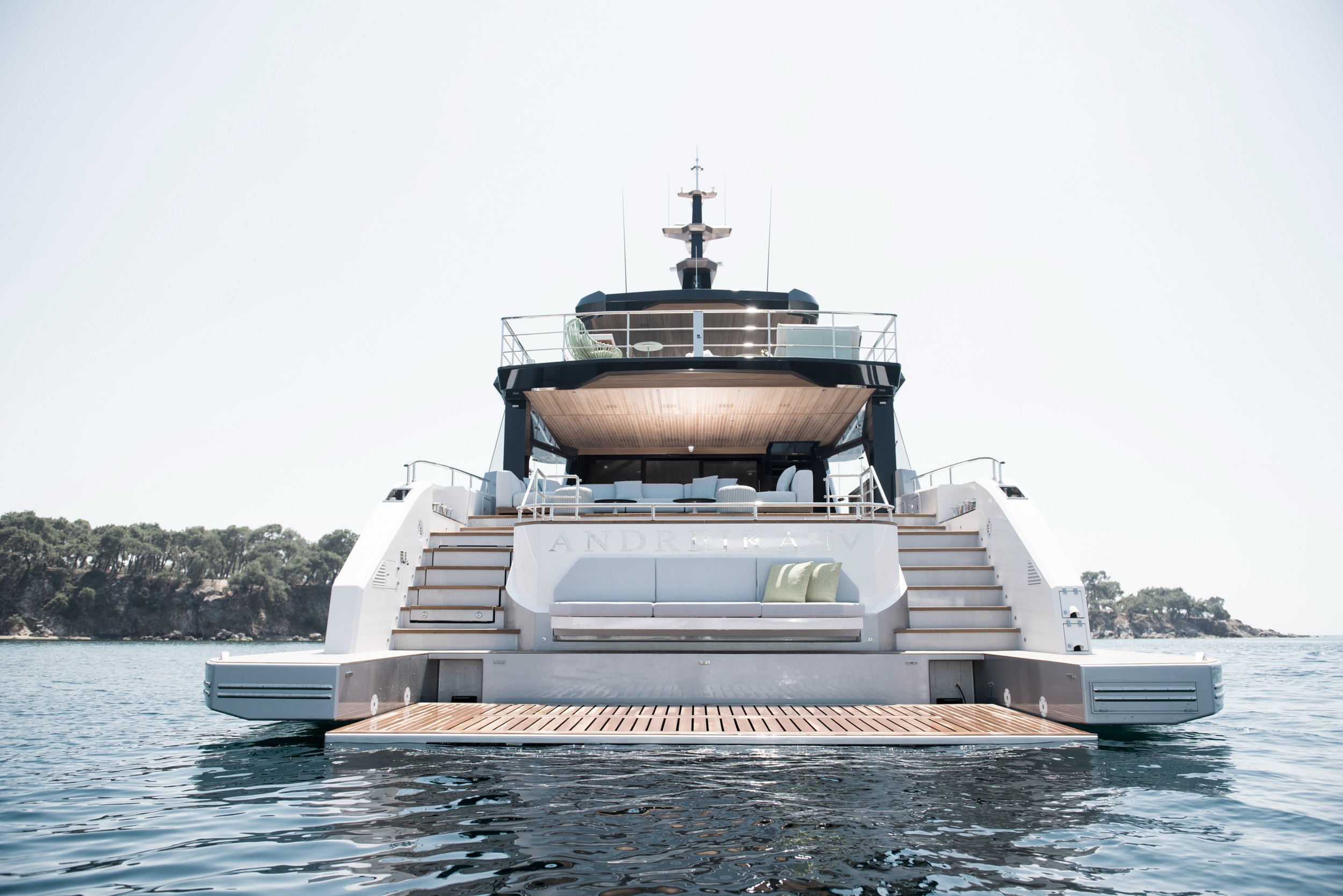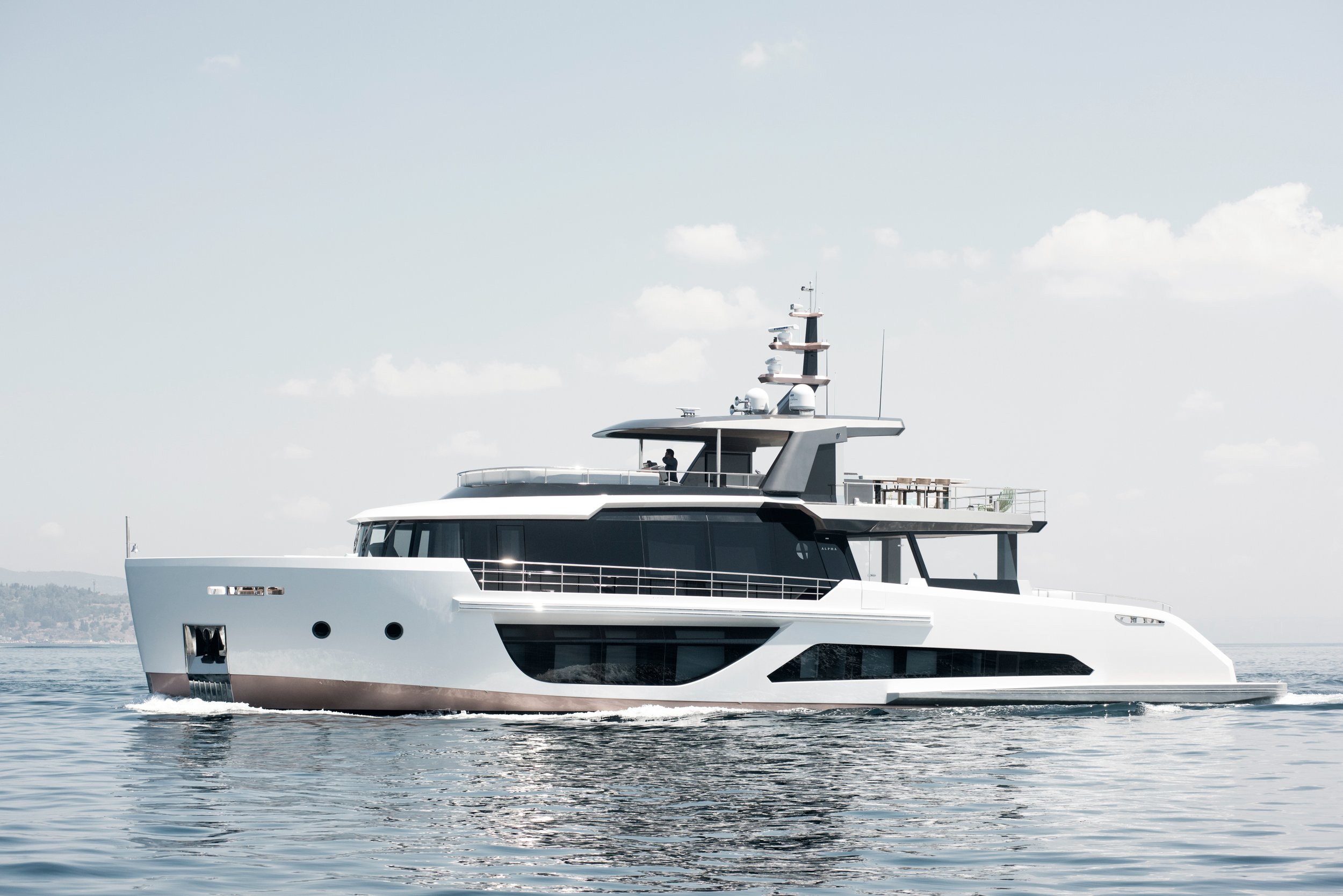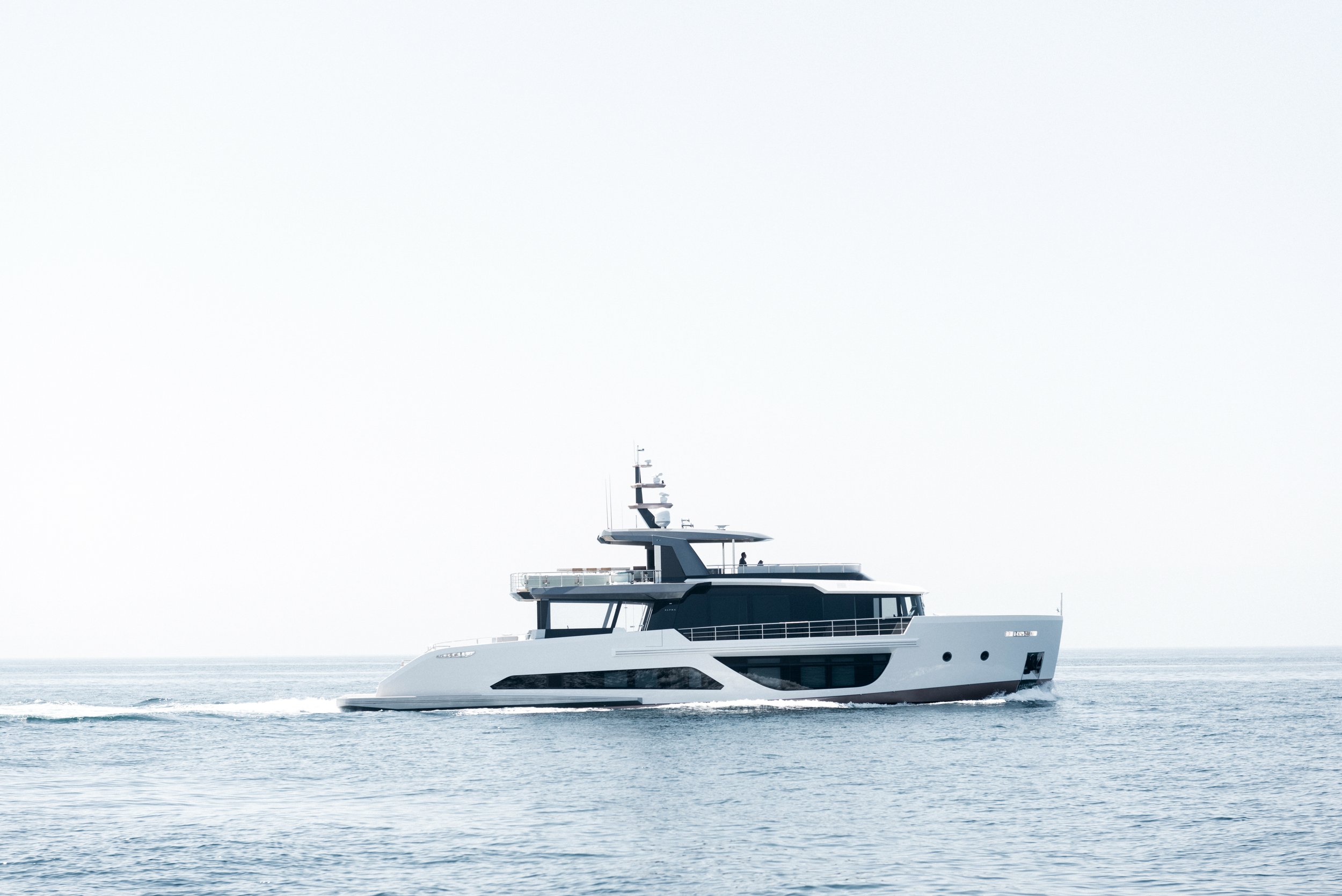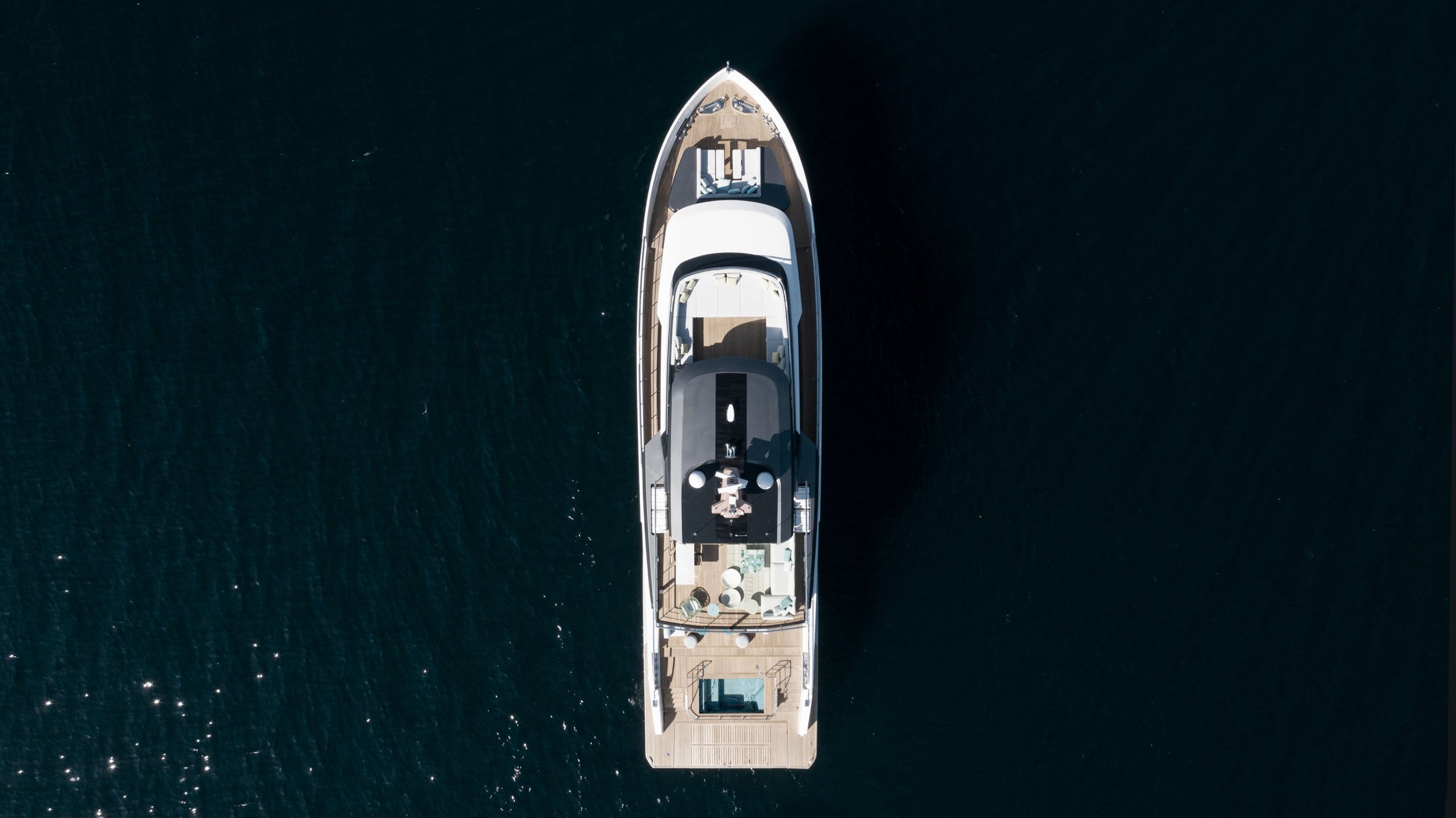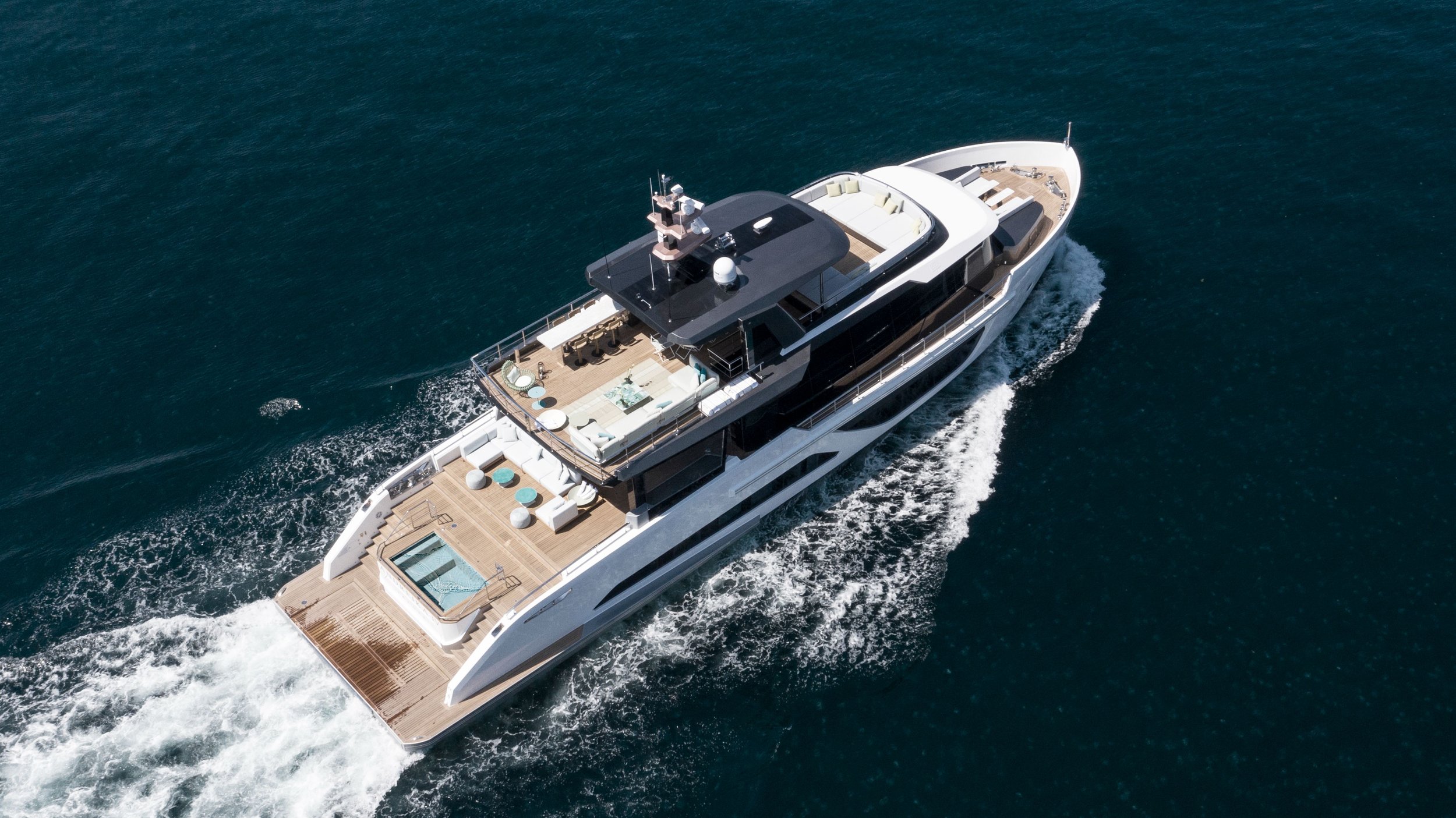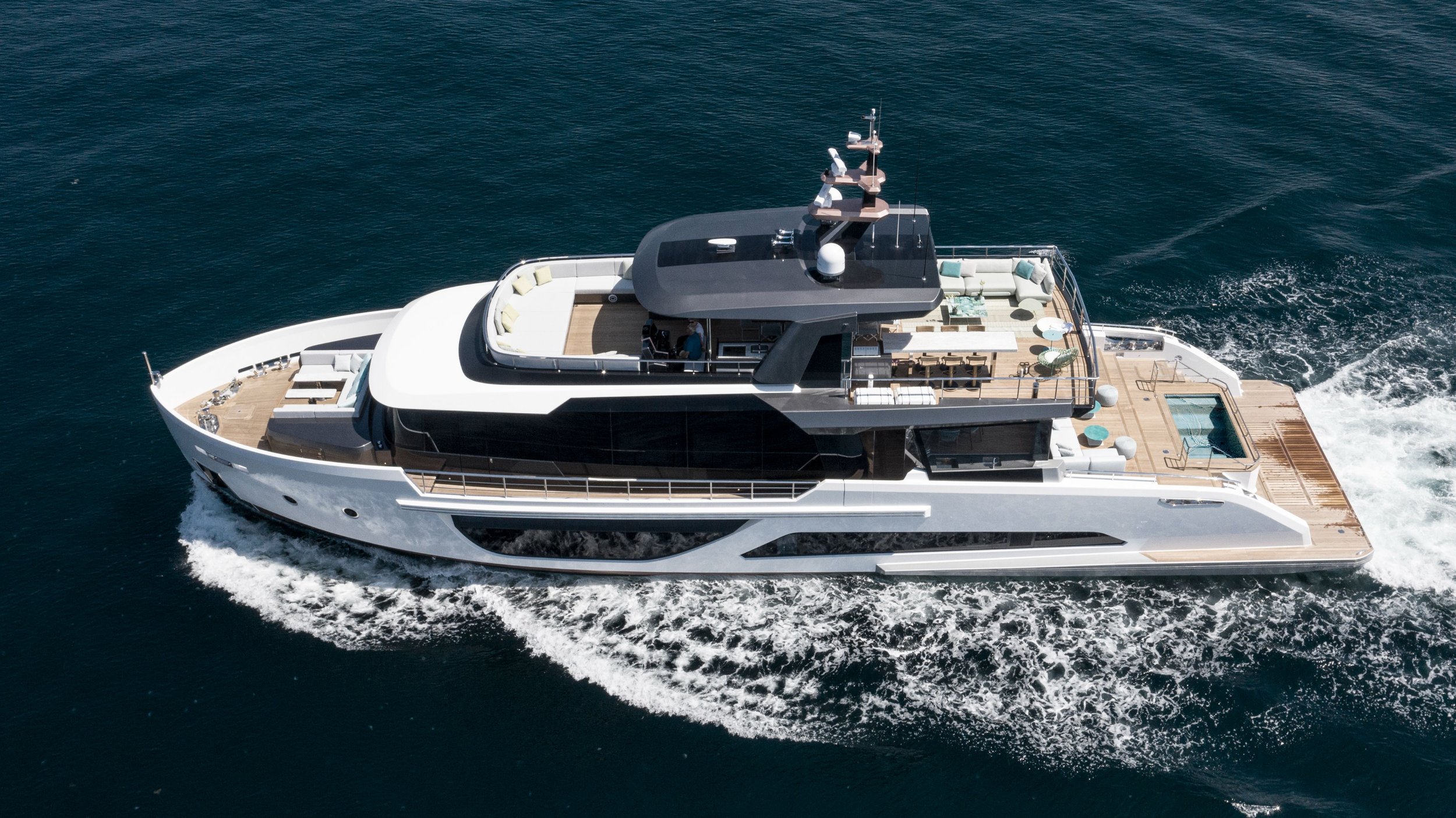 onboard
the feel of a Miami villa combined with great functionality
On an Alpha Yacht, your comfort is never compromised. The layout of this model has been expertly maximized; the twin rooms feature double closets and over 3 foot wide beds, the VIPs come with king-size beds and the owner's apartment is 130-square-feet. ⁠⁠The large open spaces, extensive refrigerators, ample storage, and a sundeck that can seat up to 50 people are ideal for family togetherness.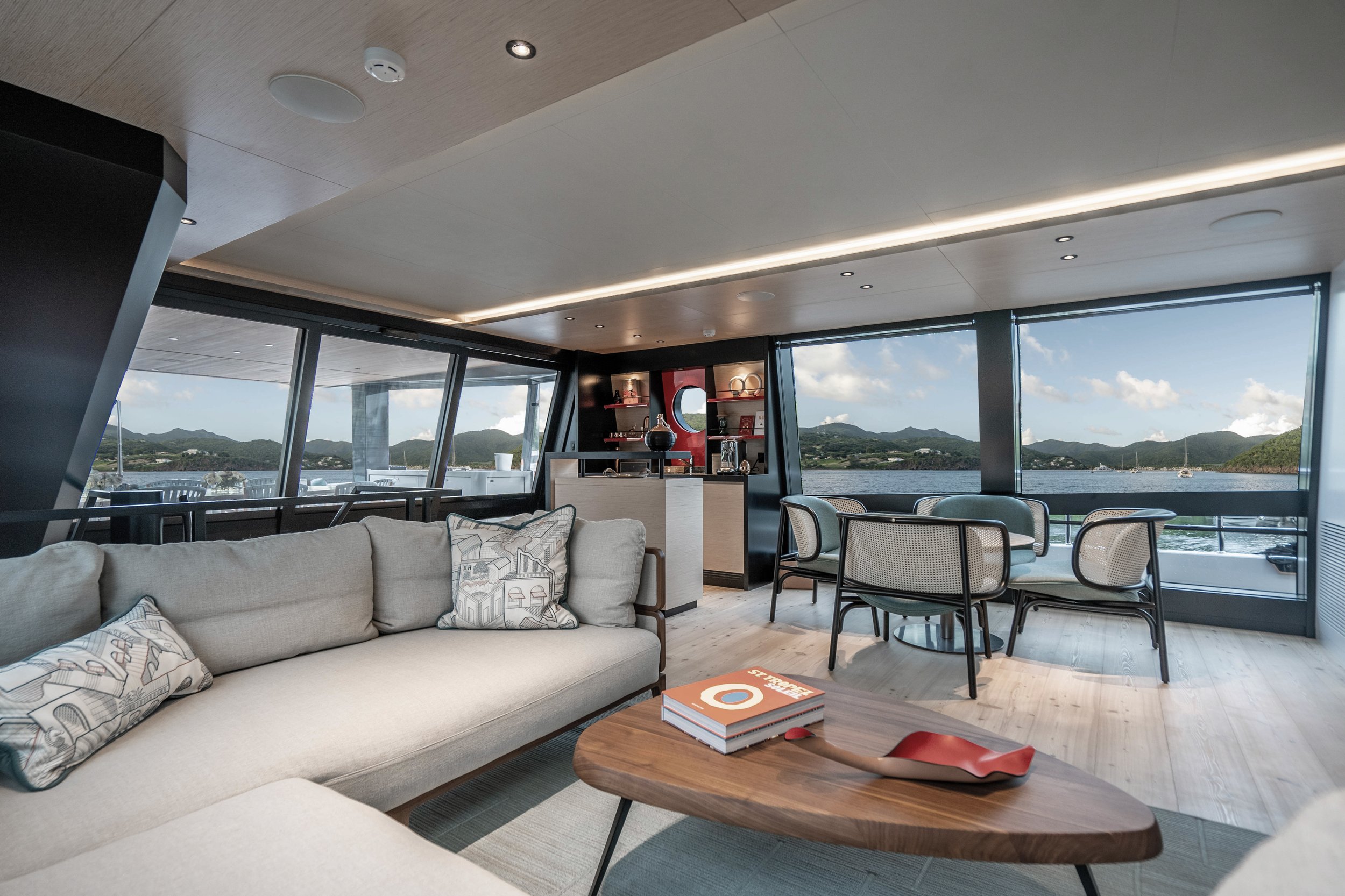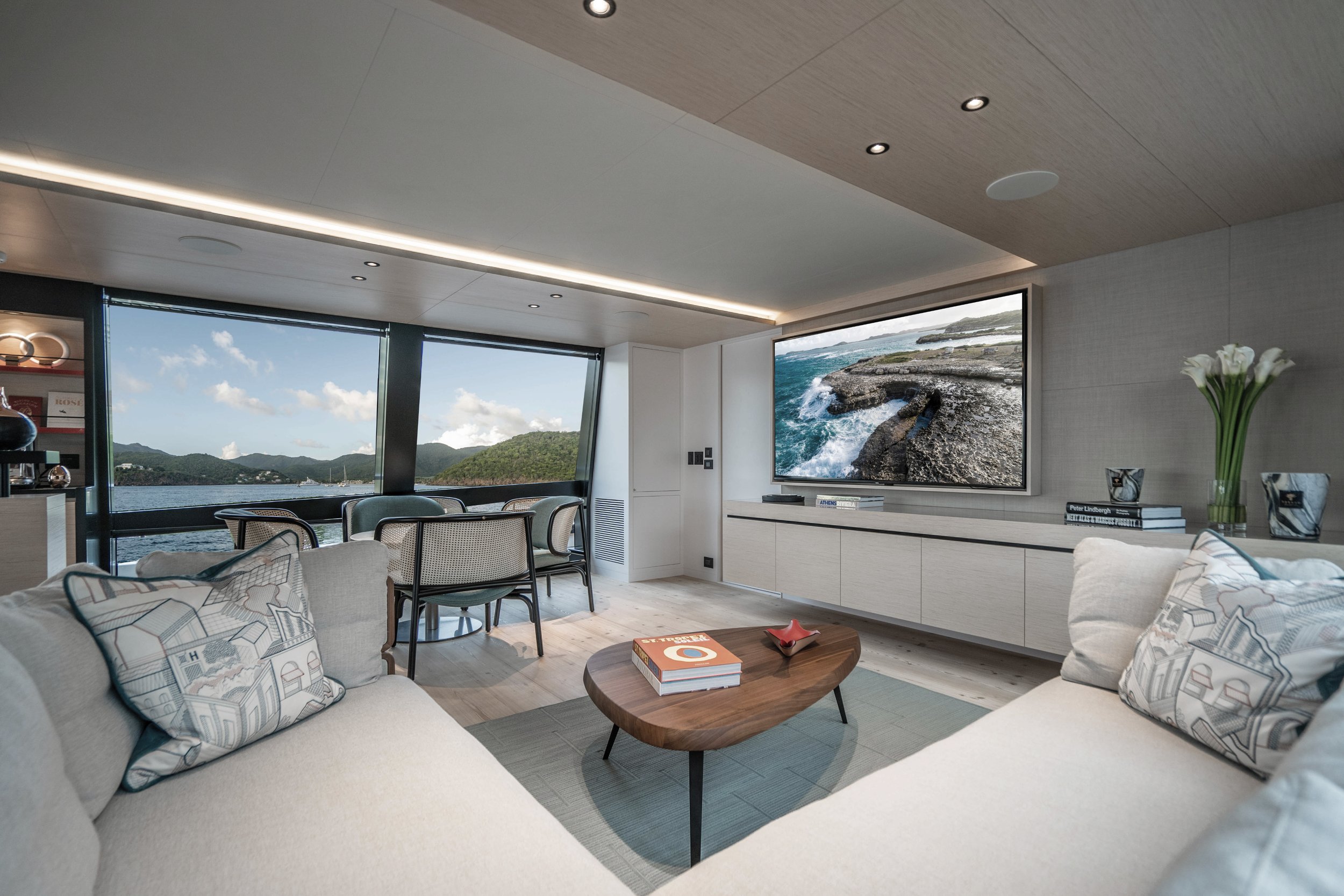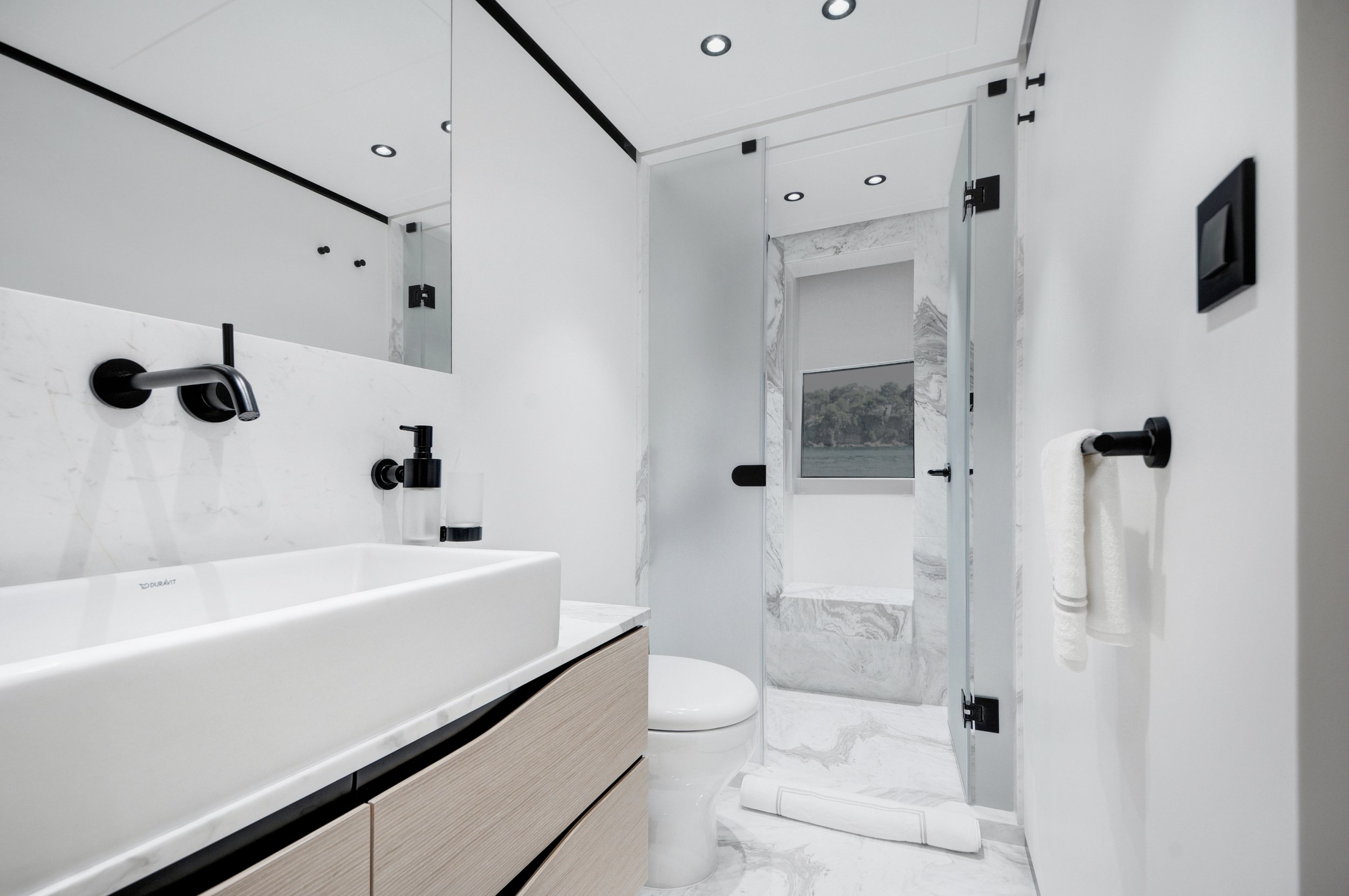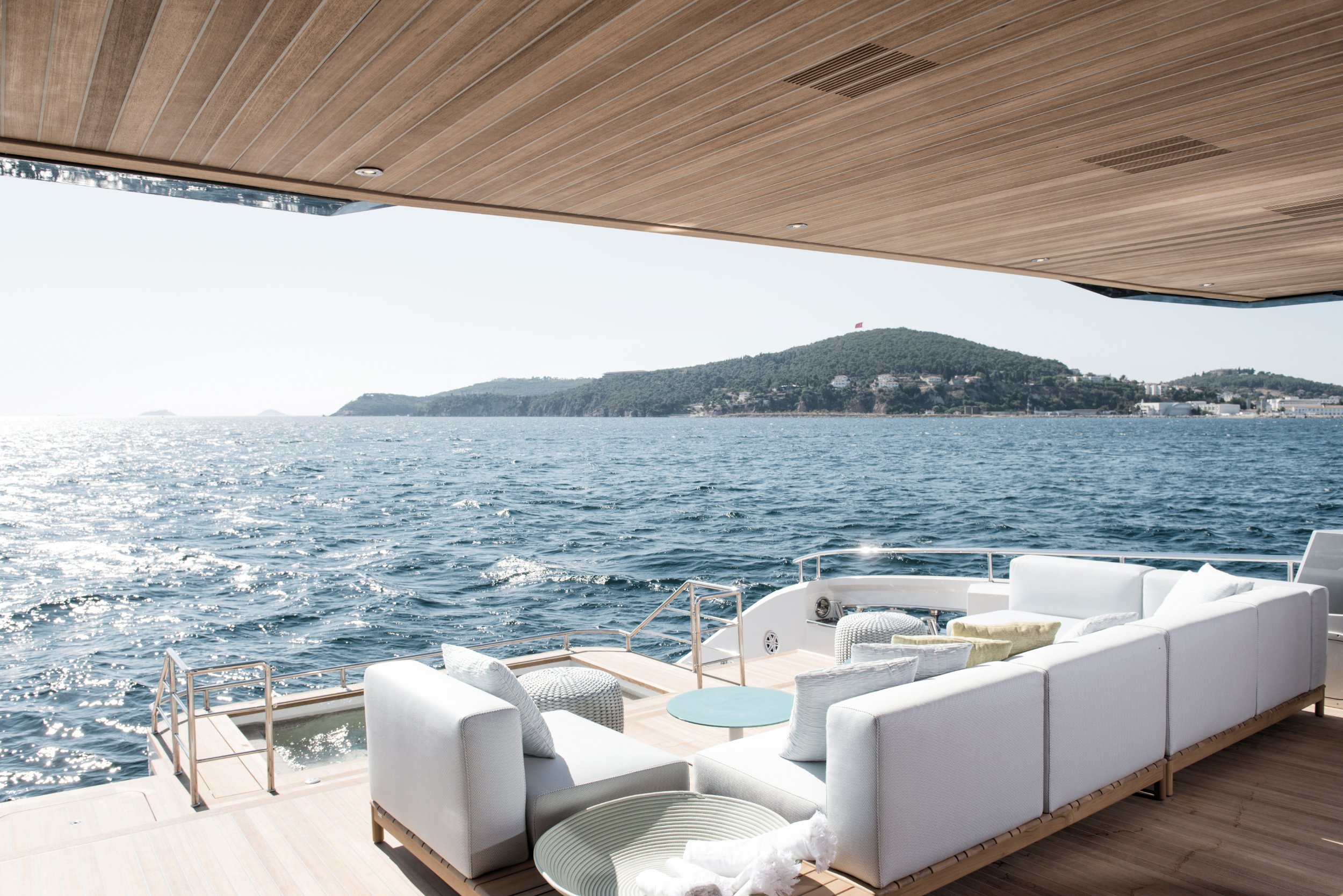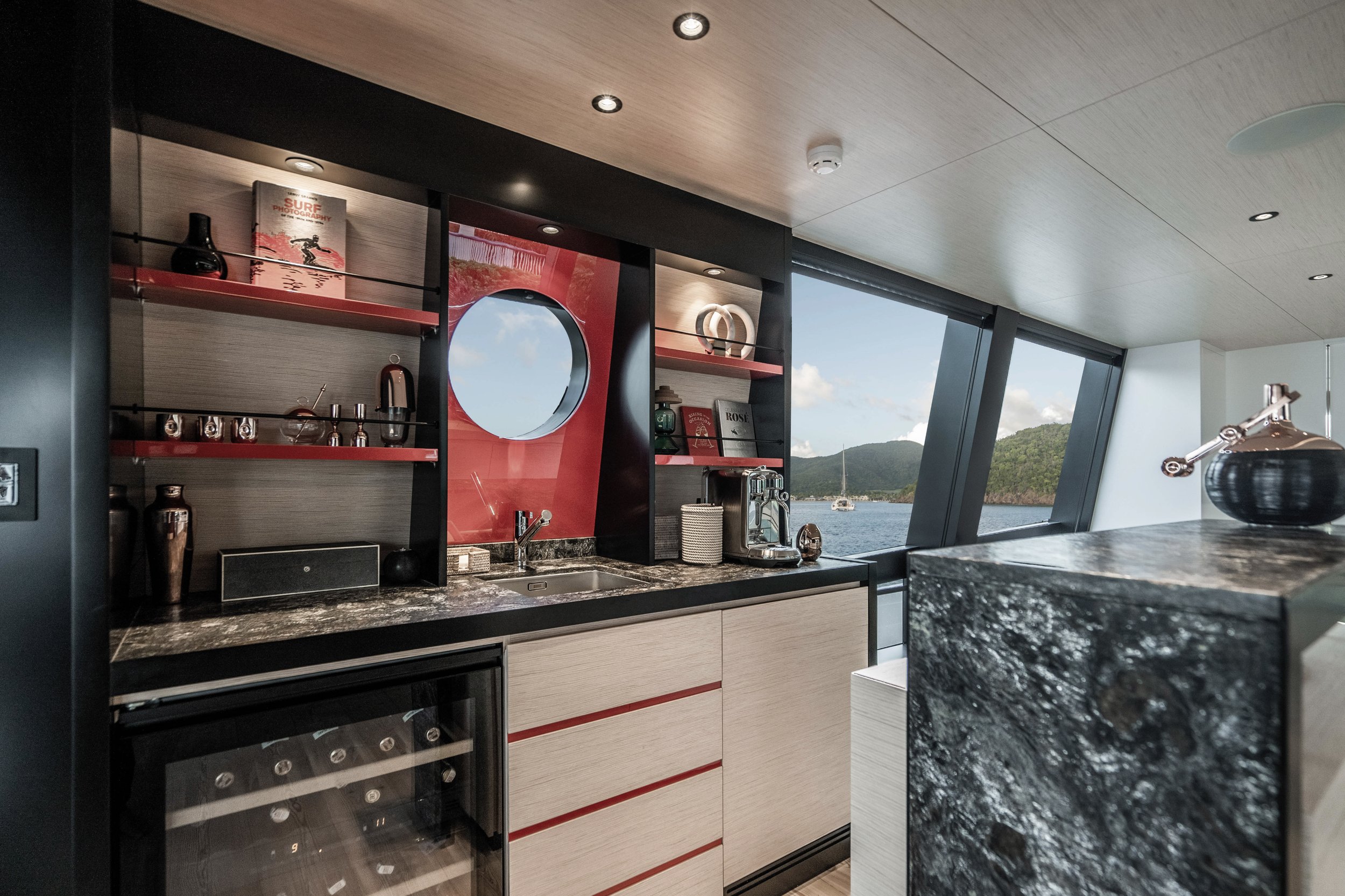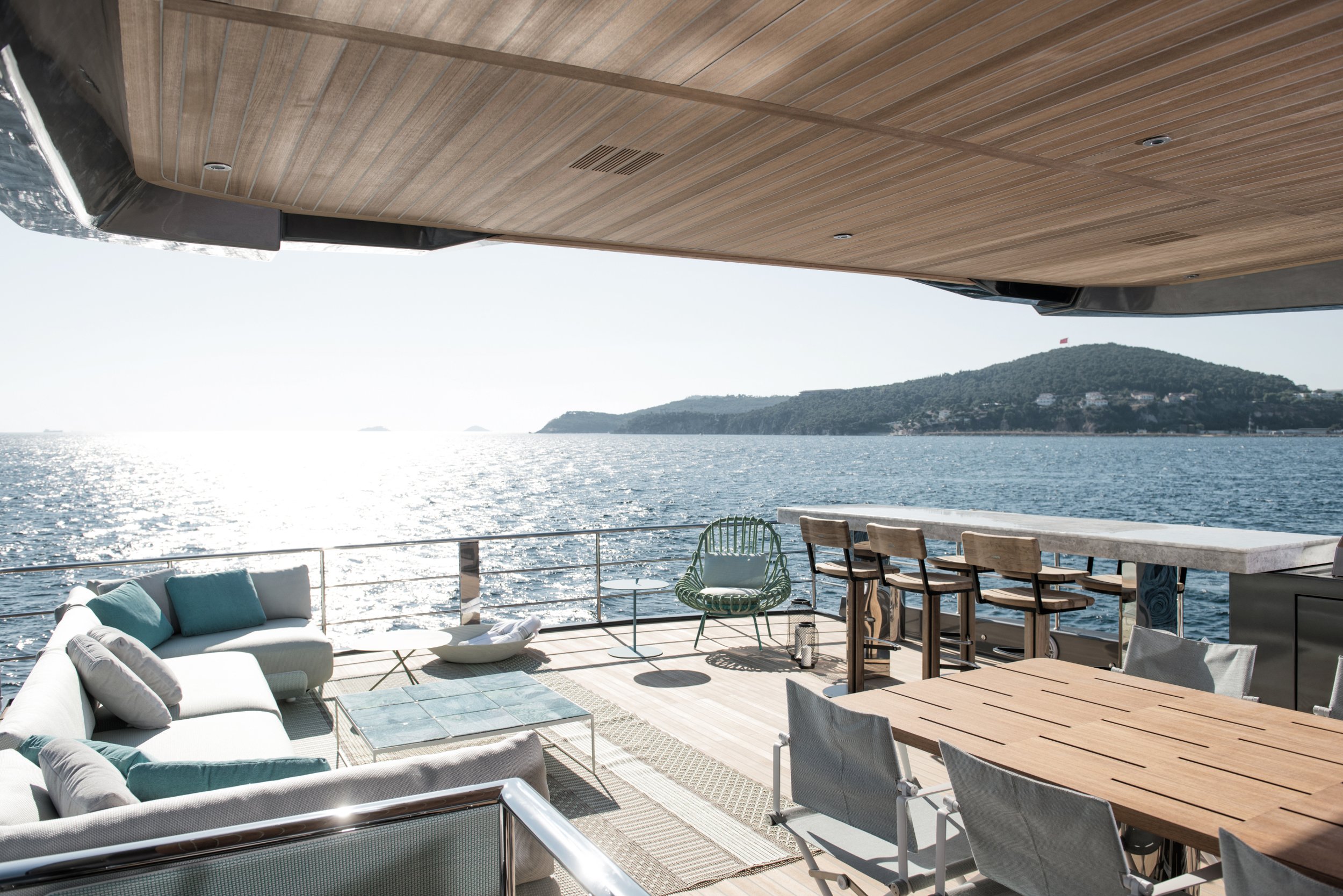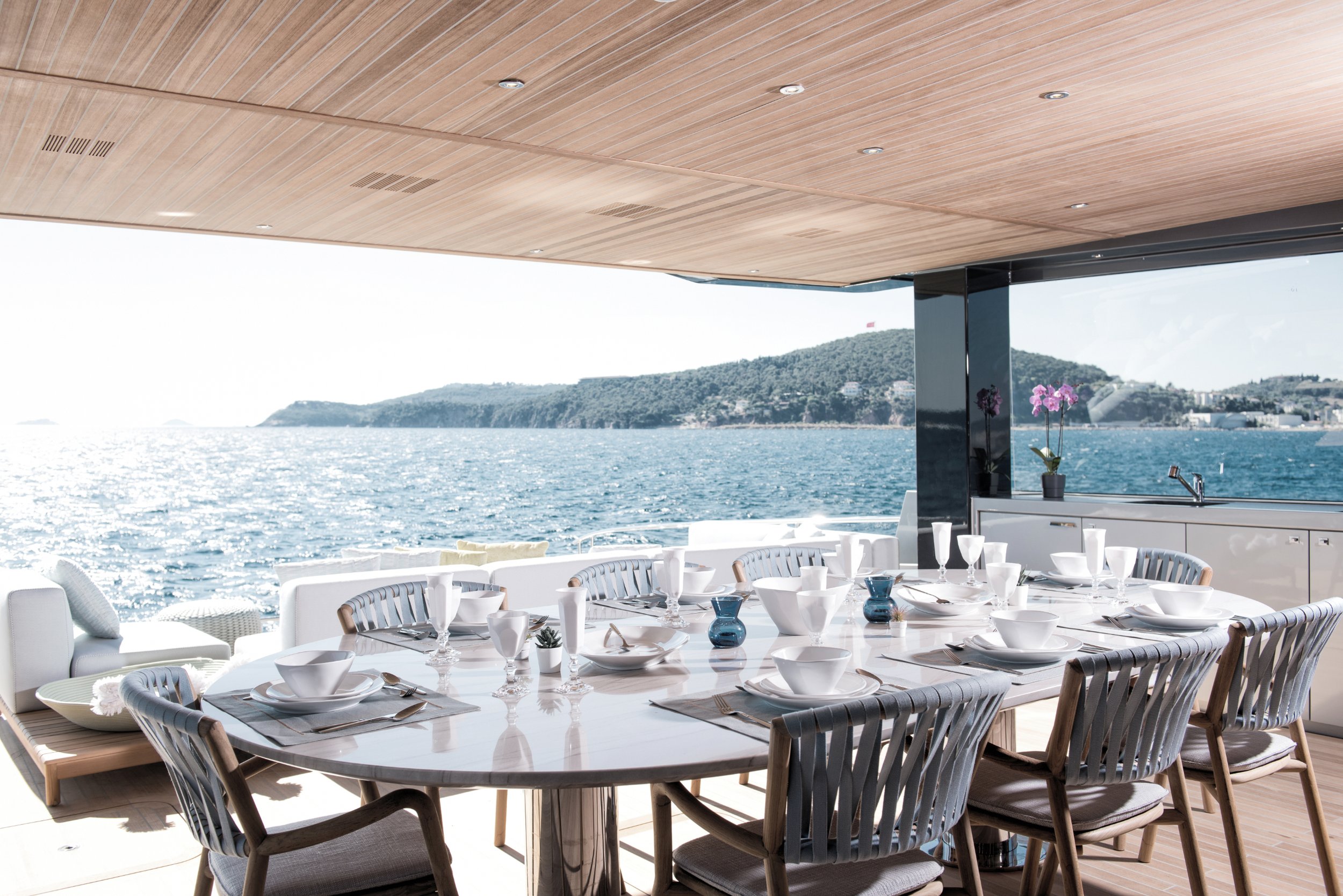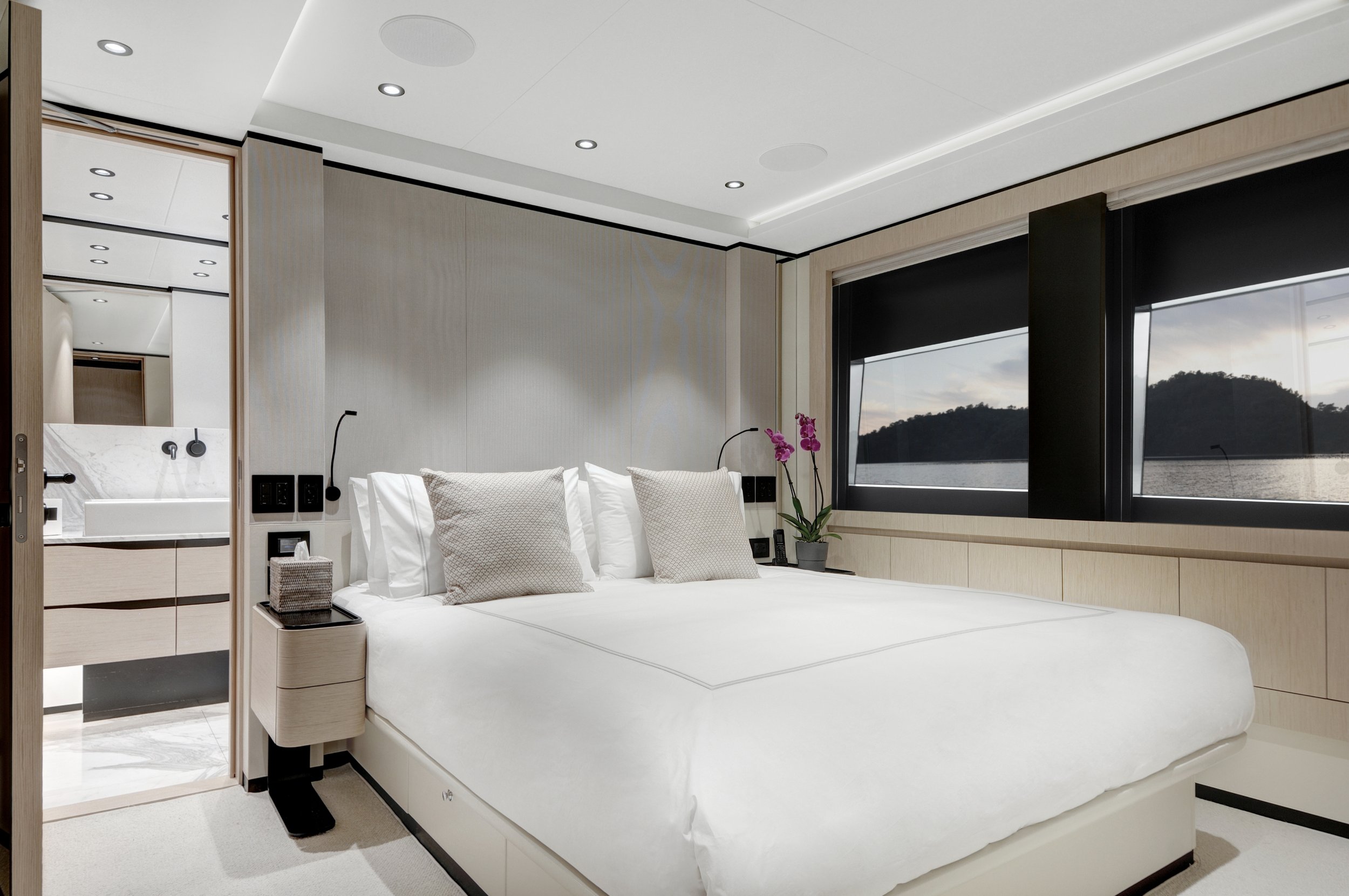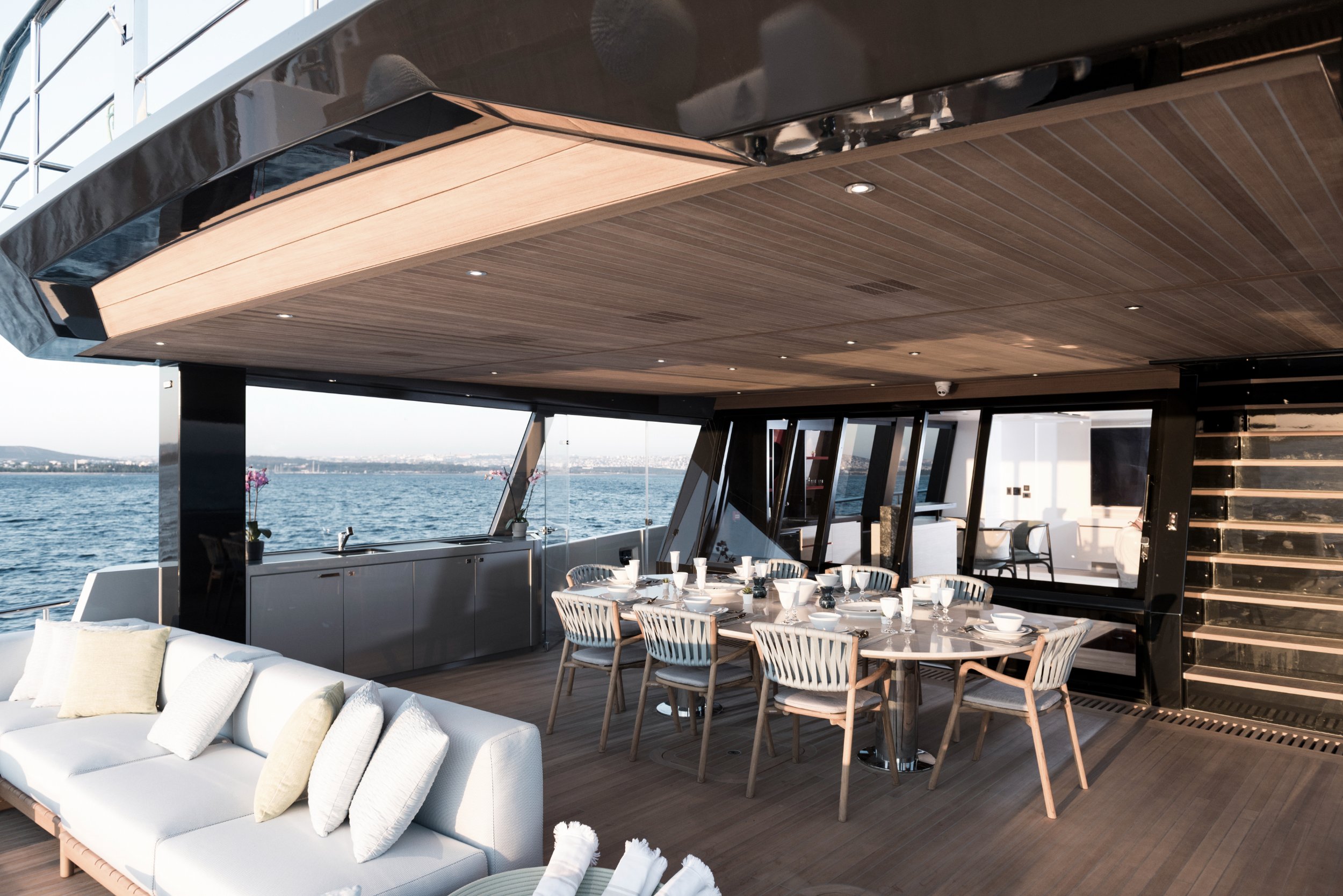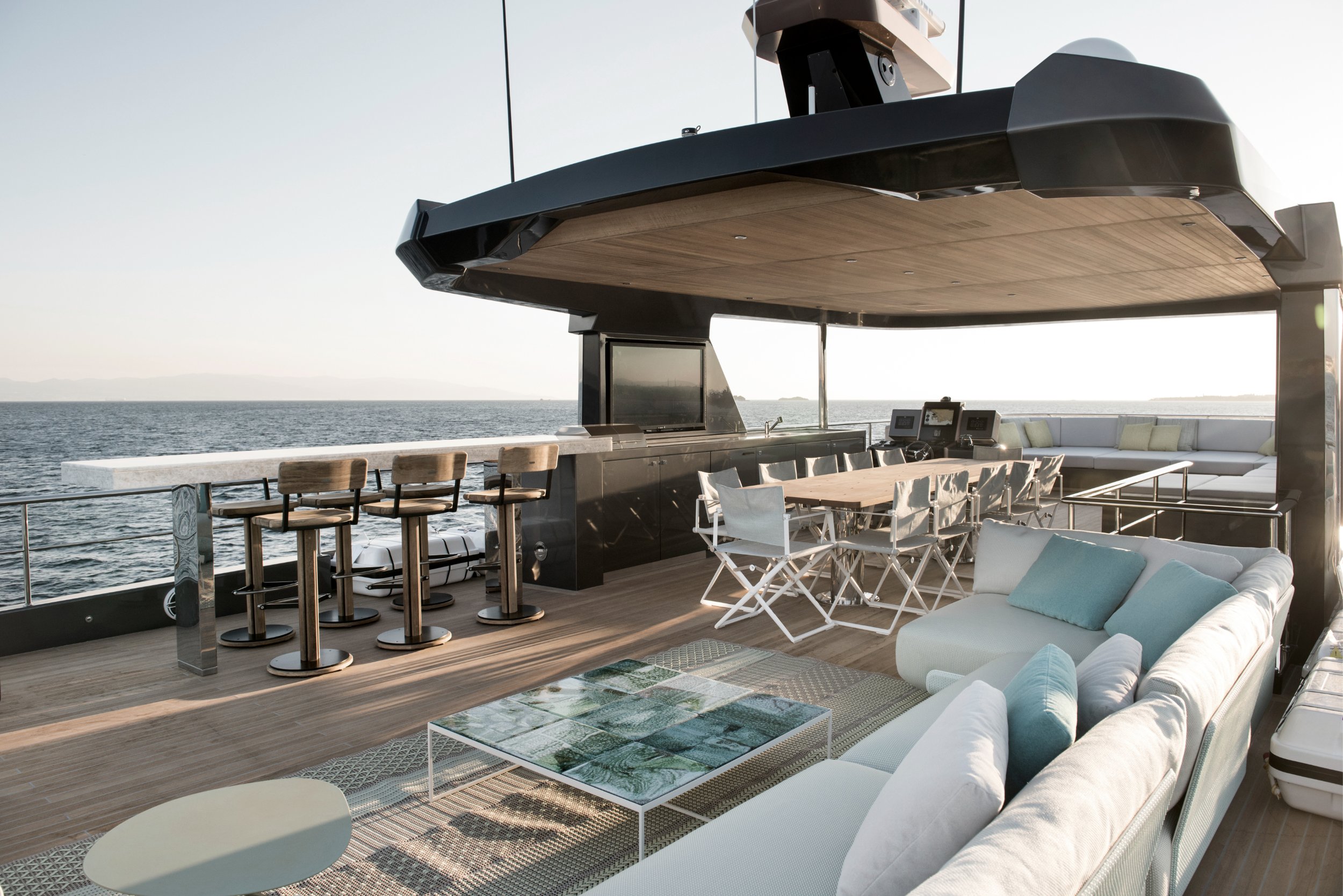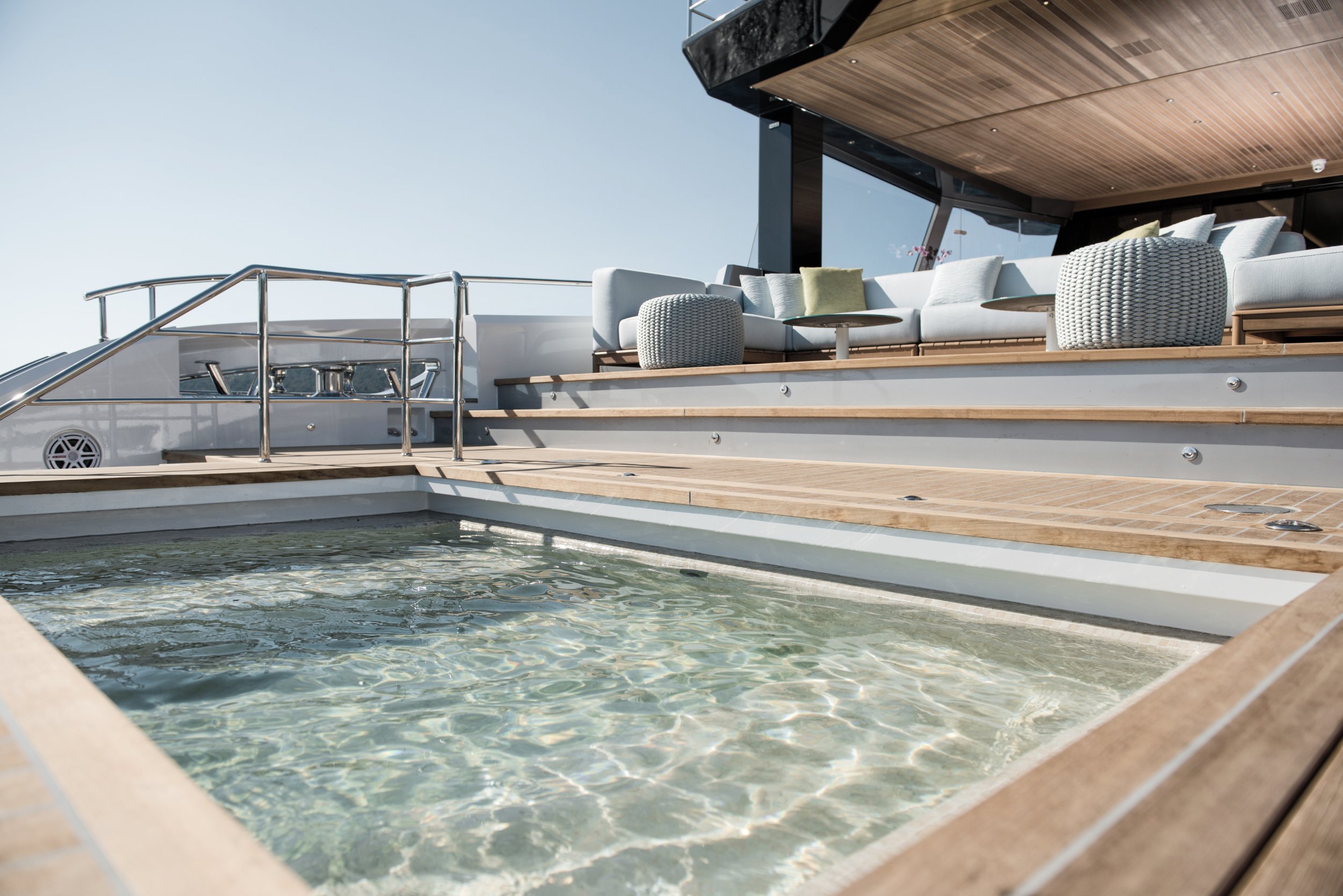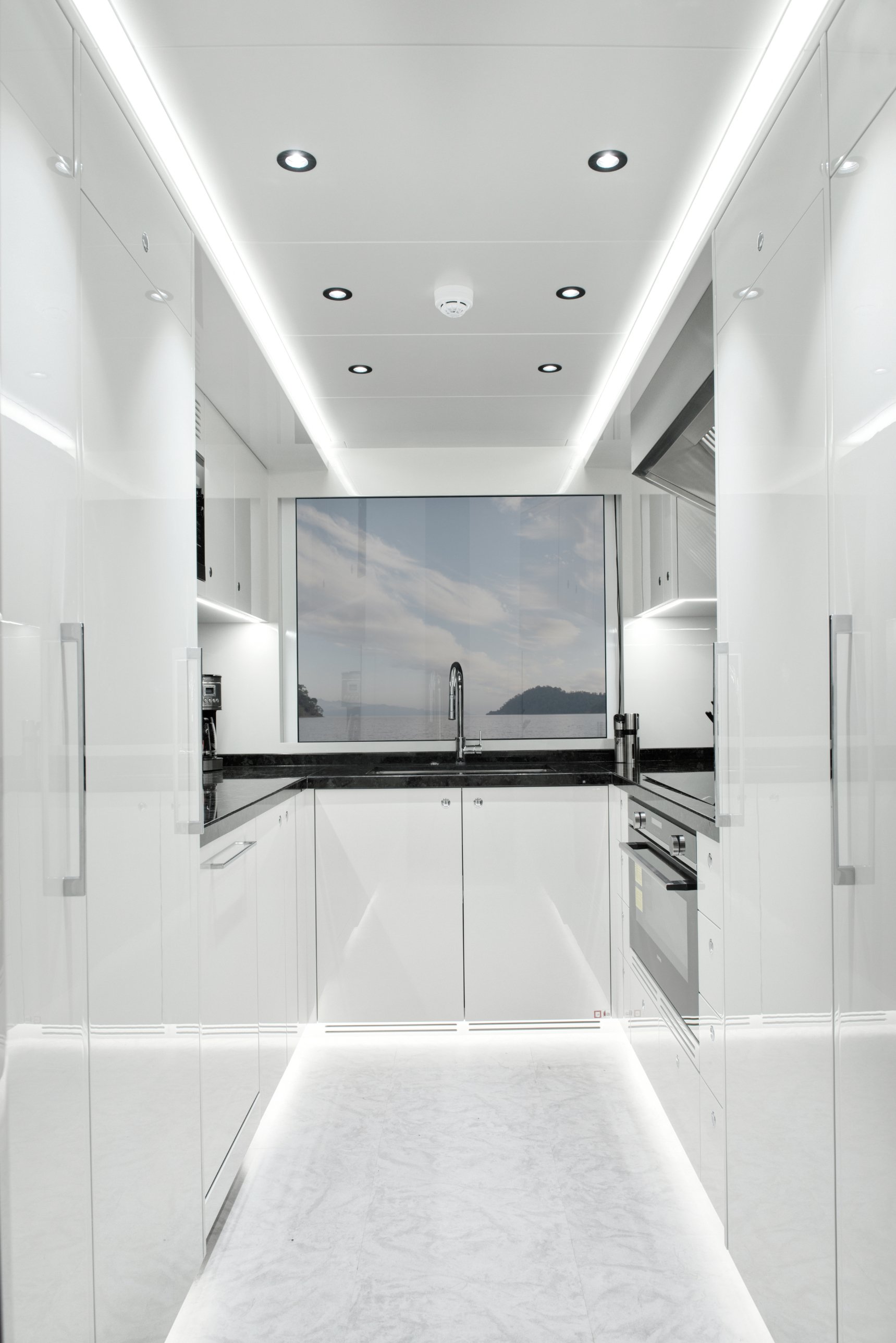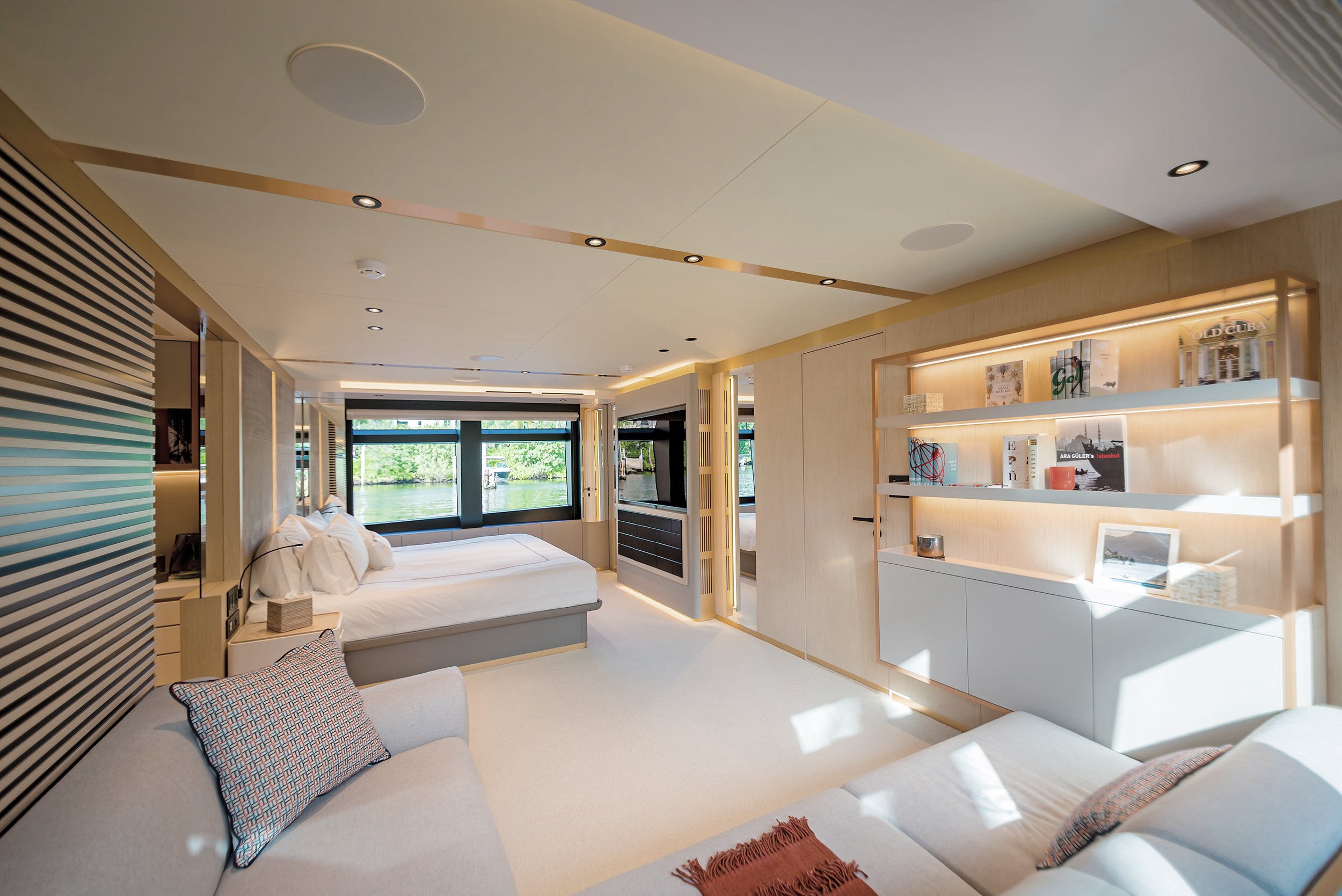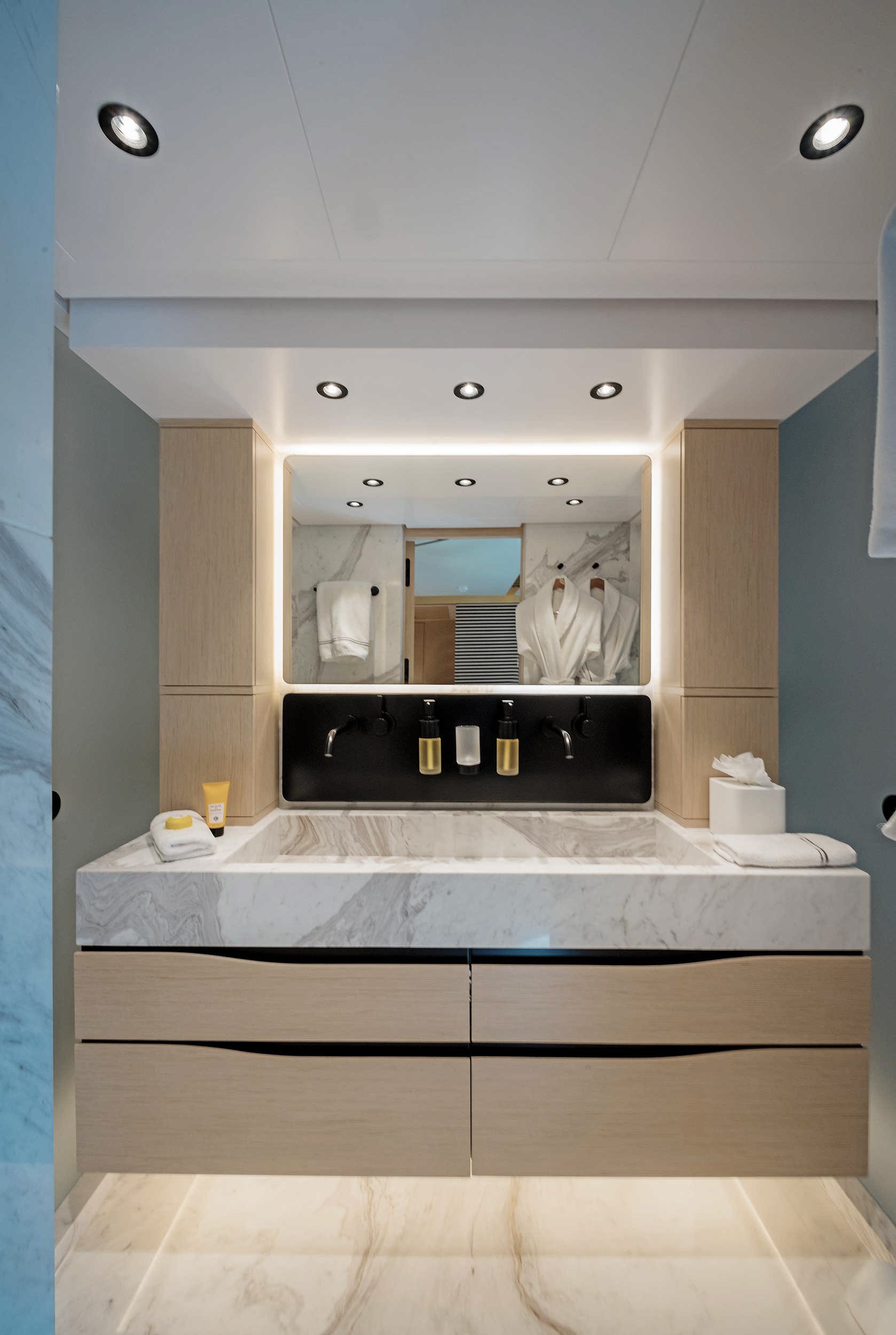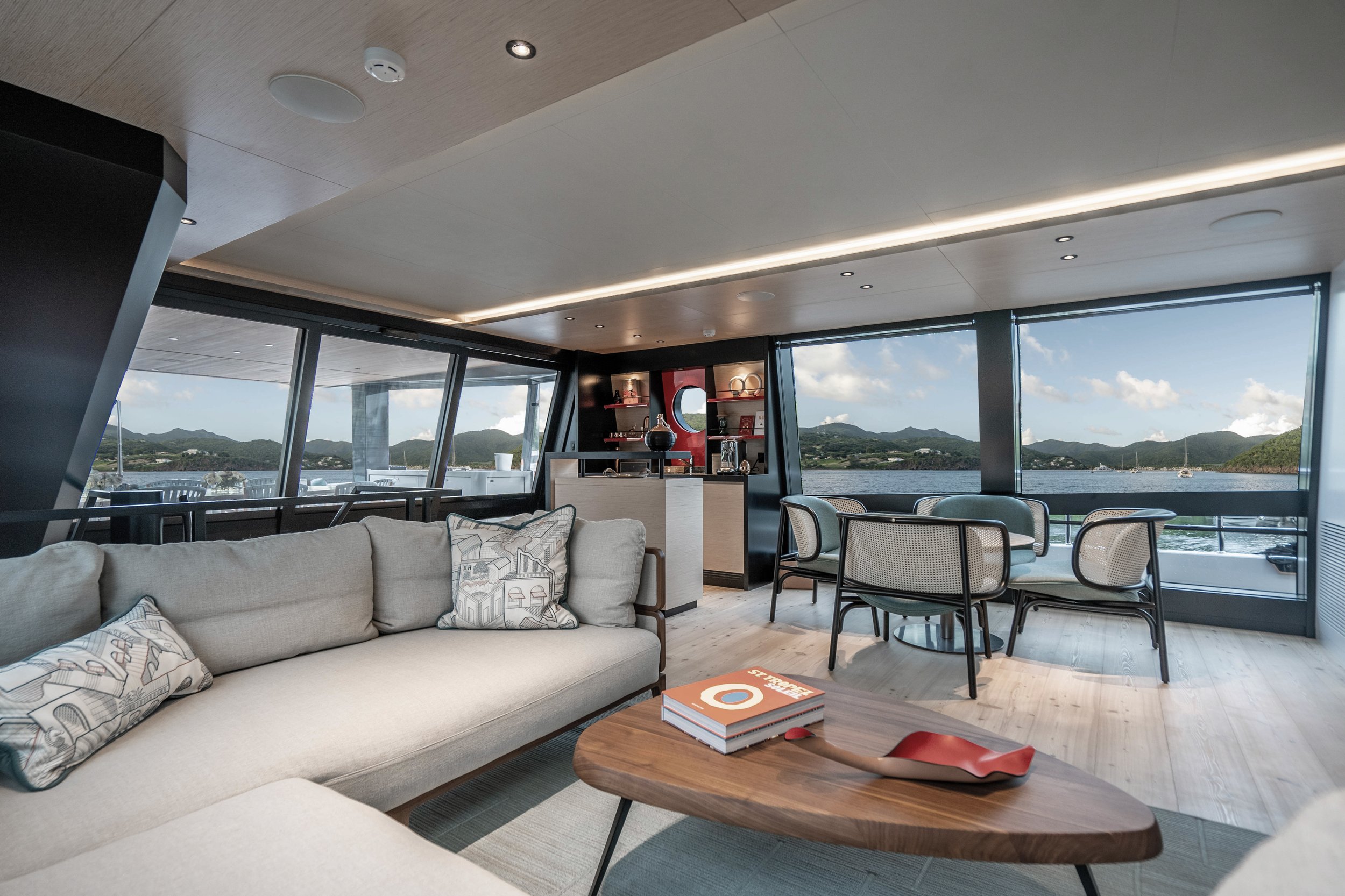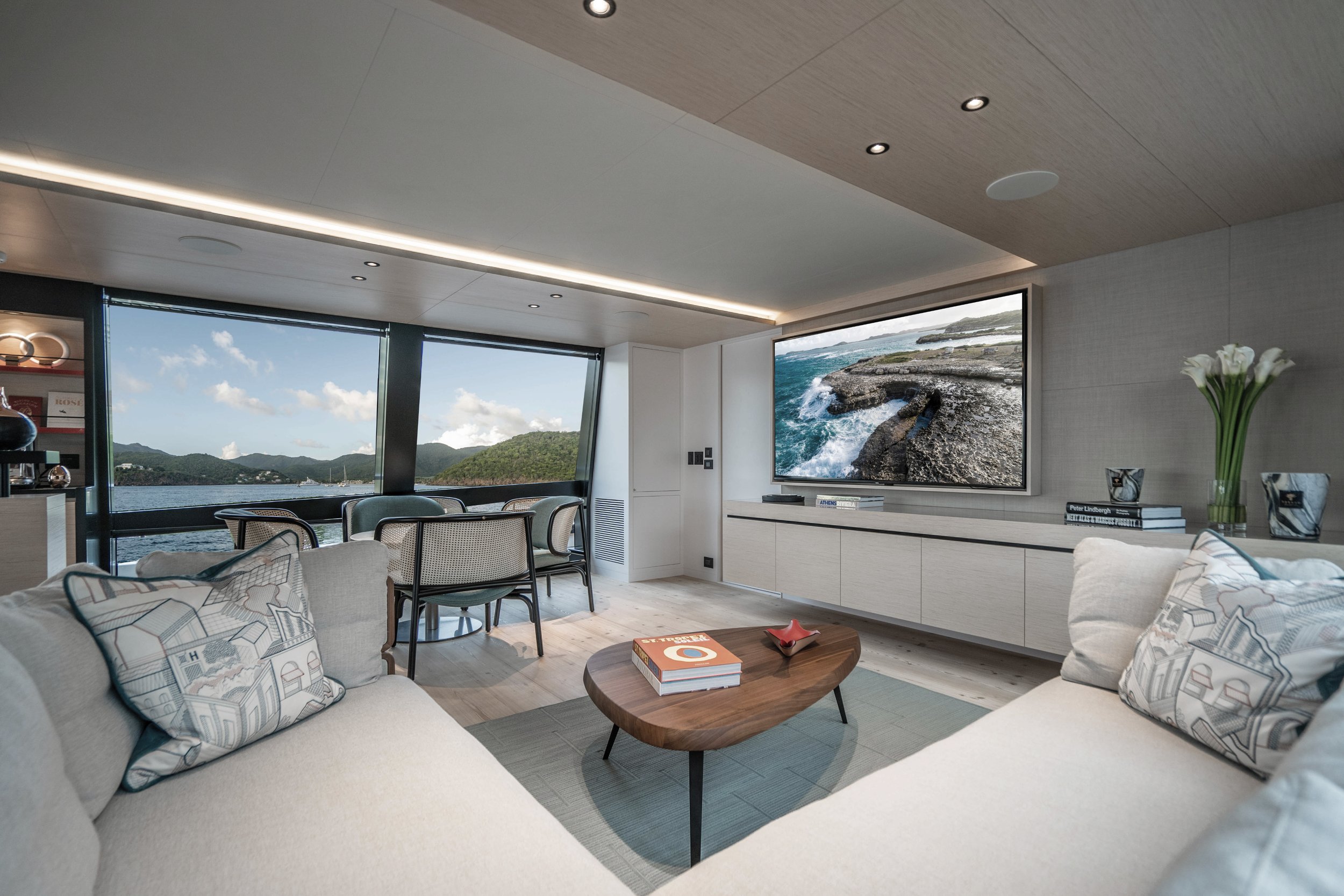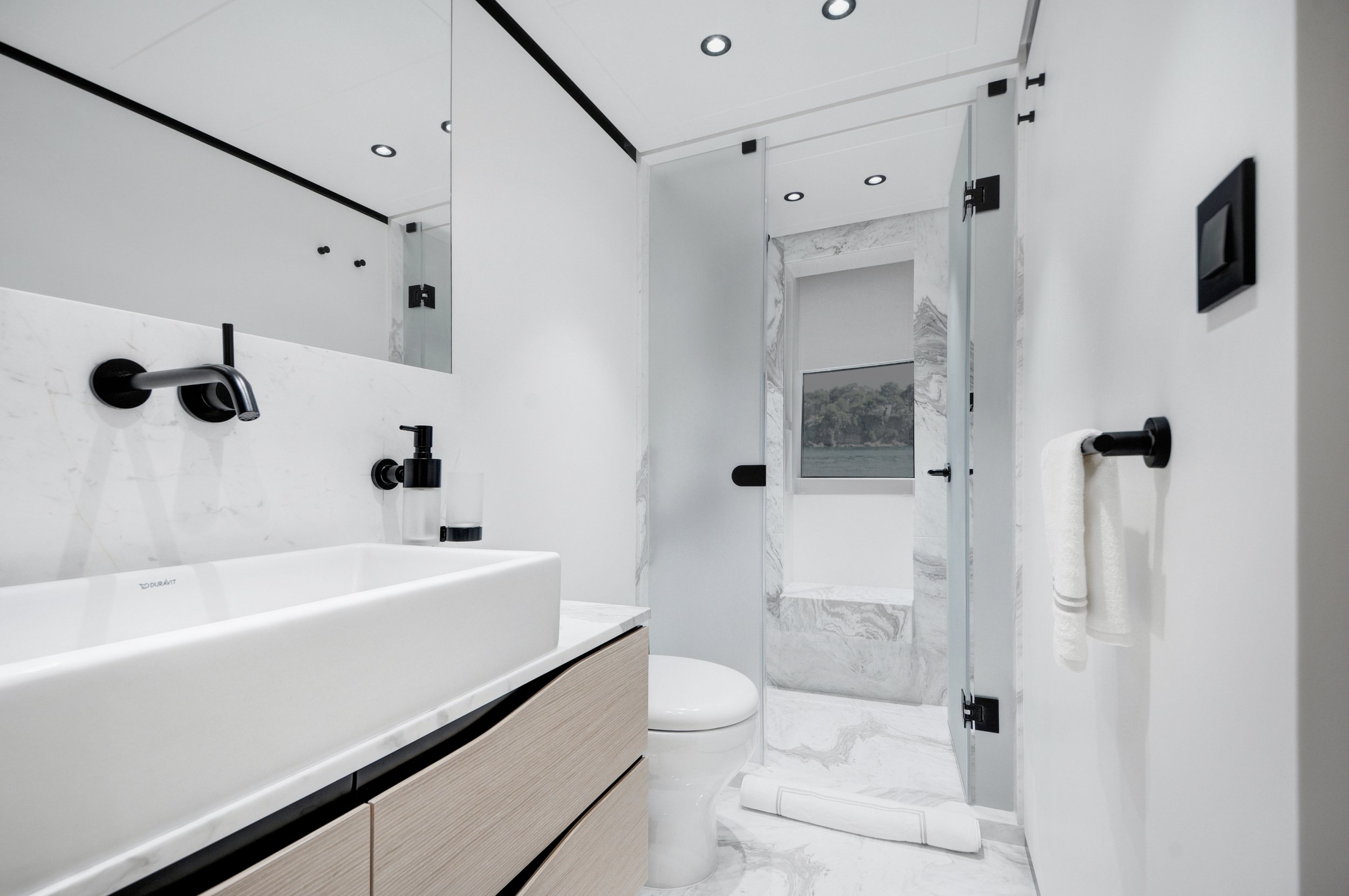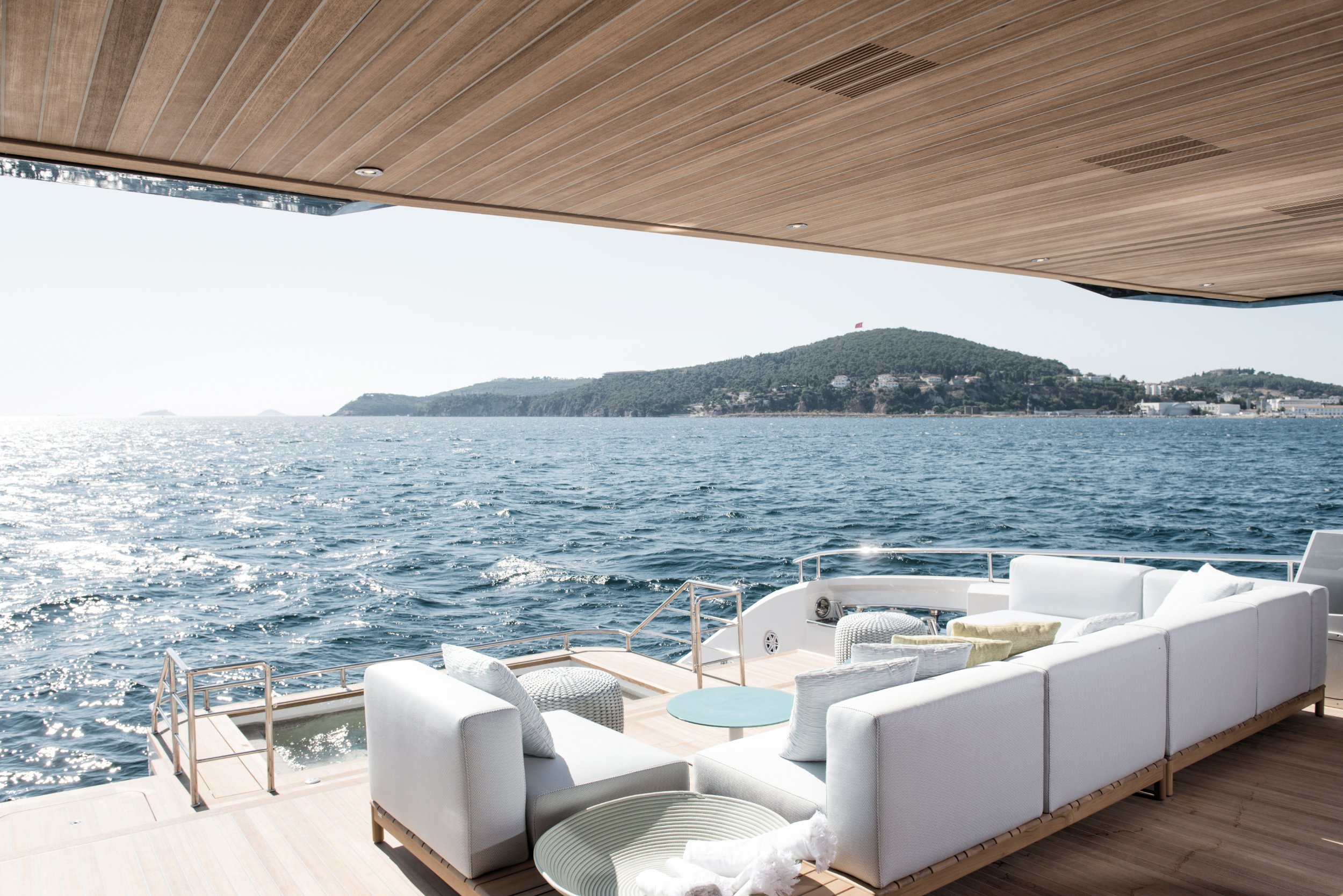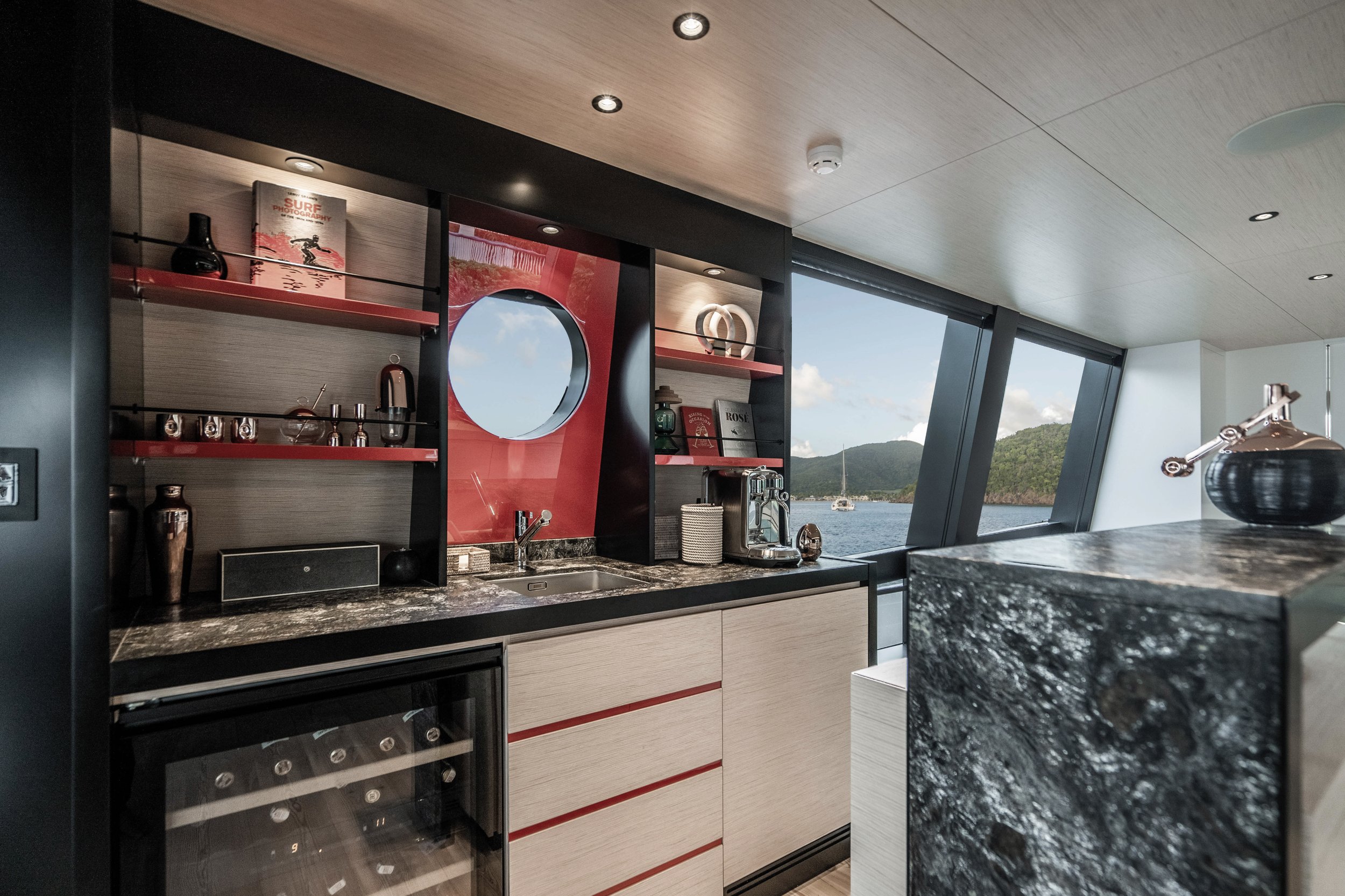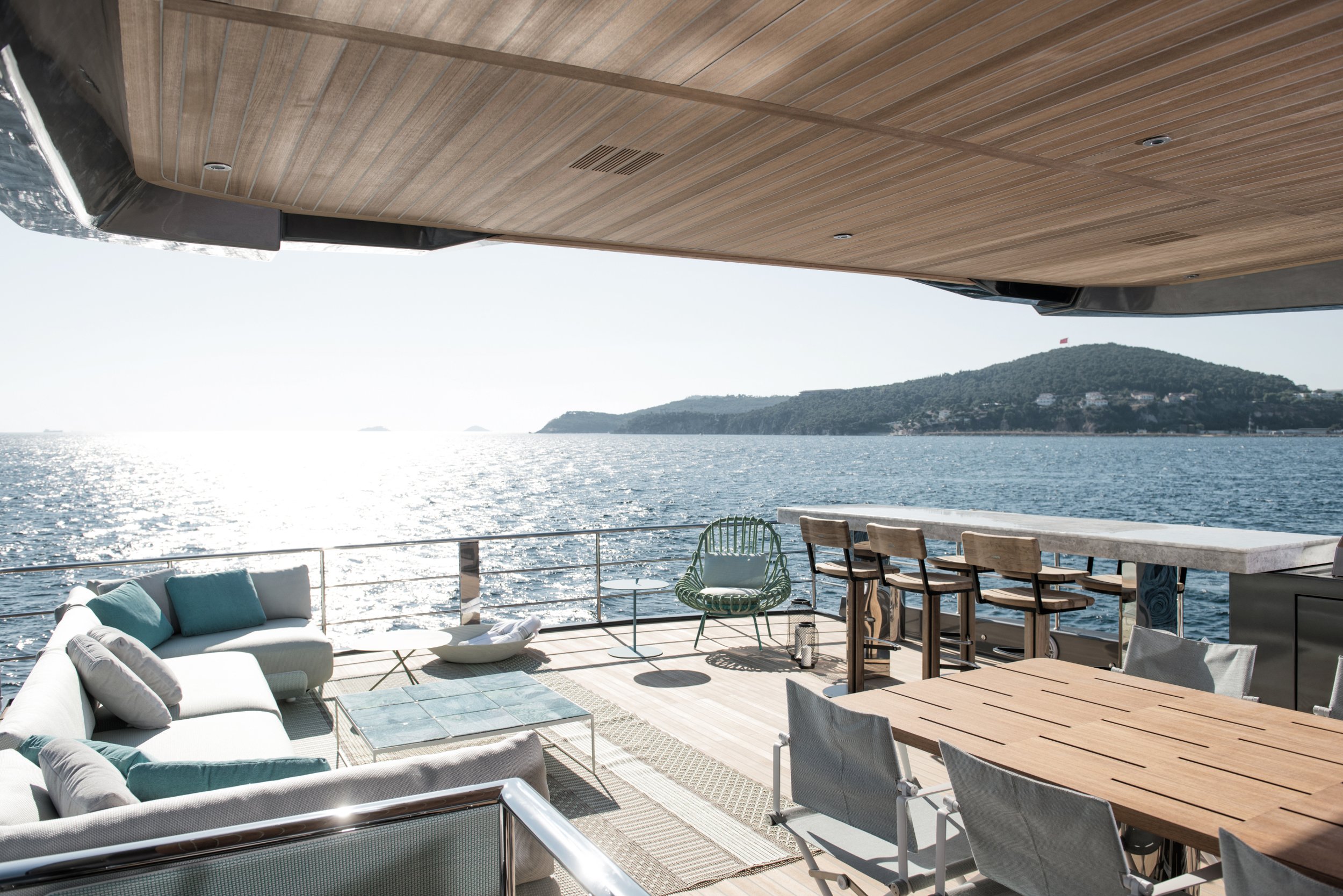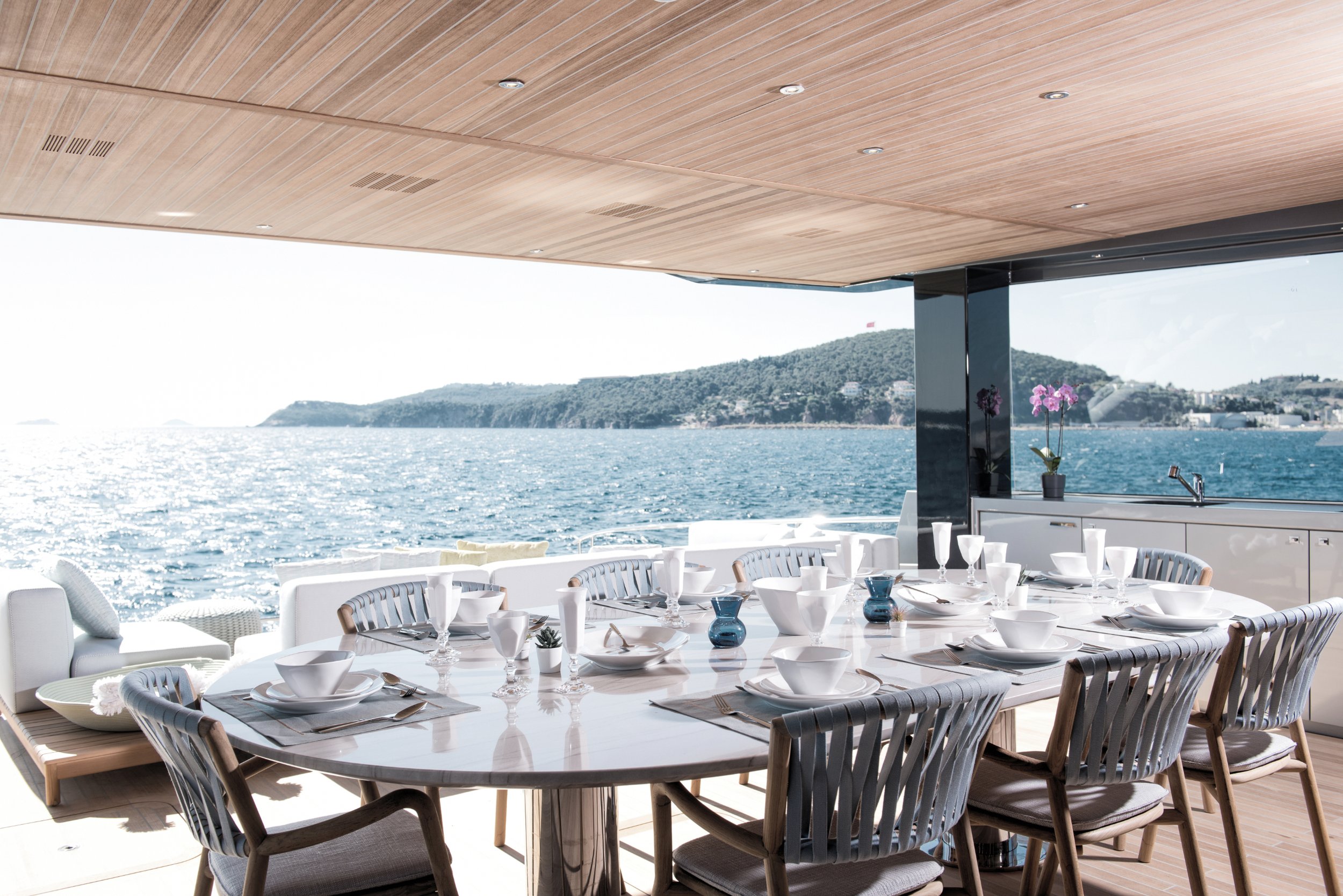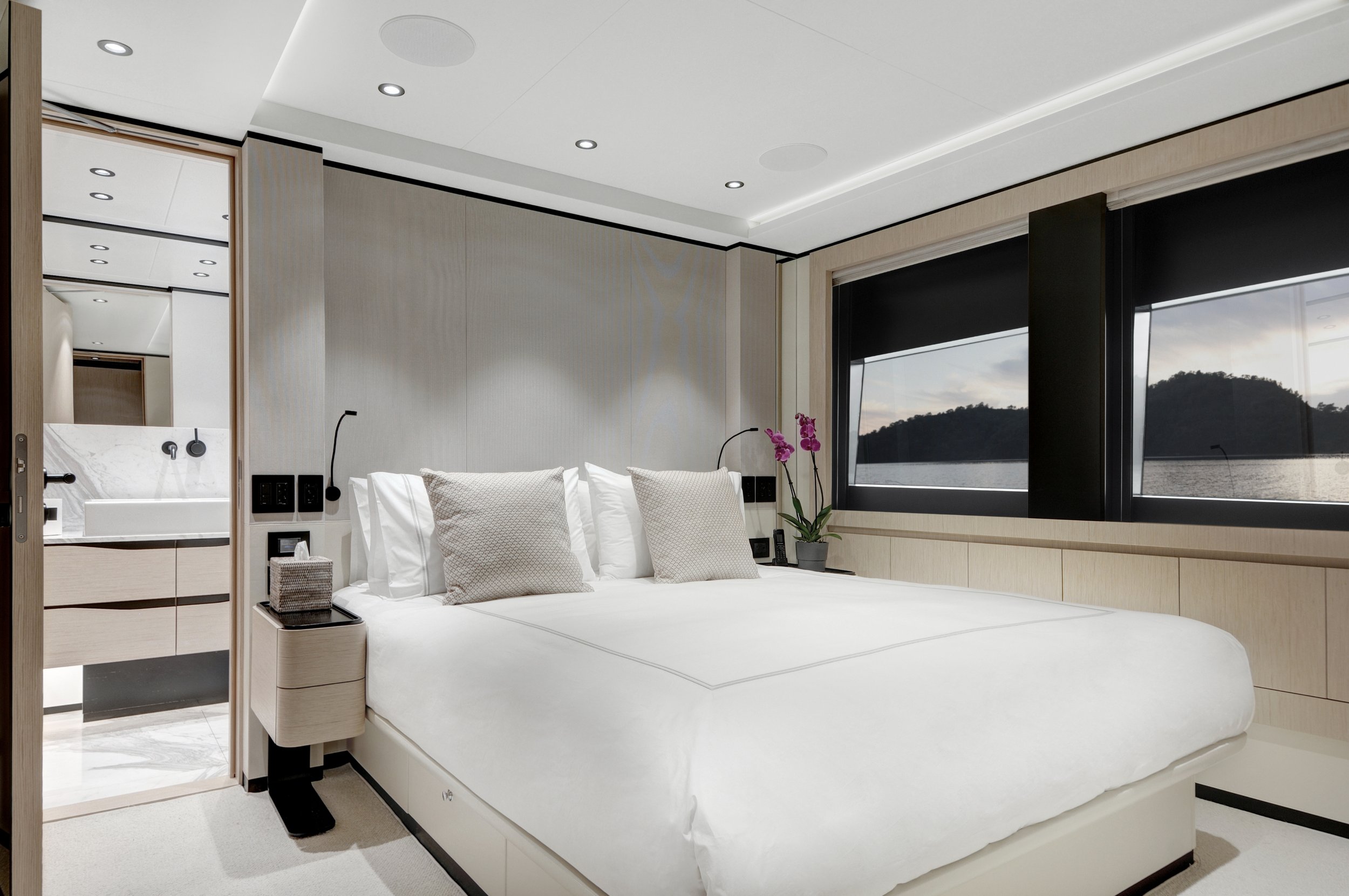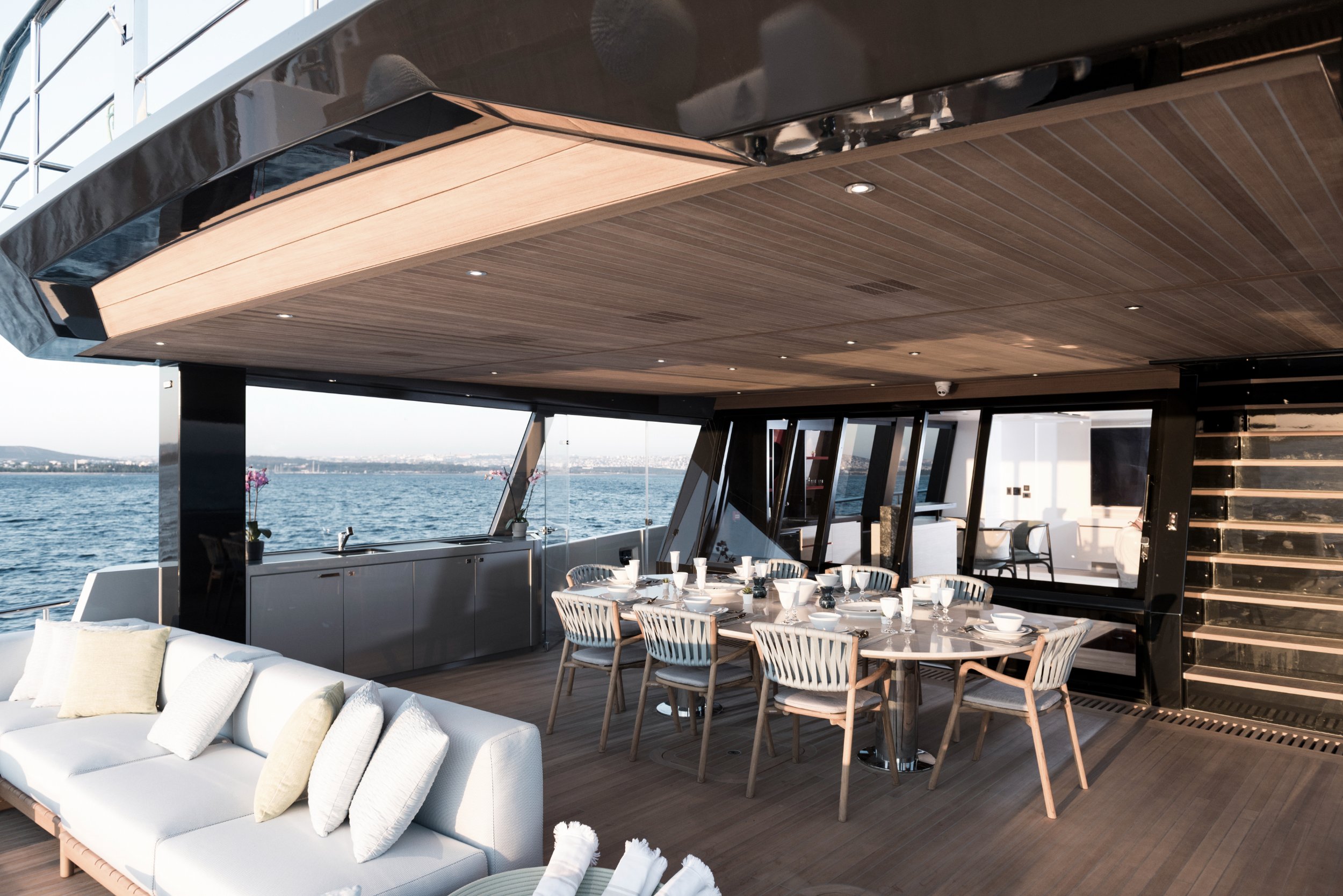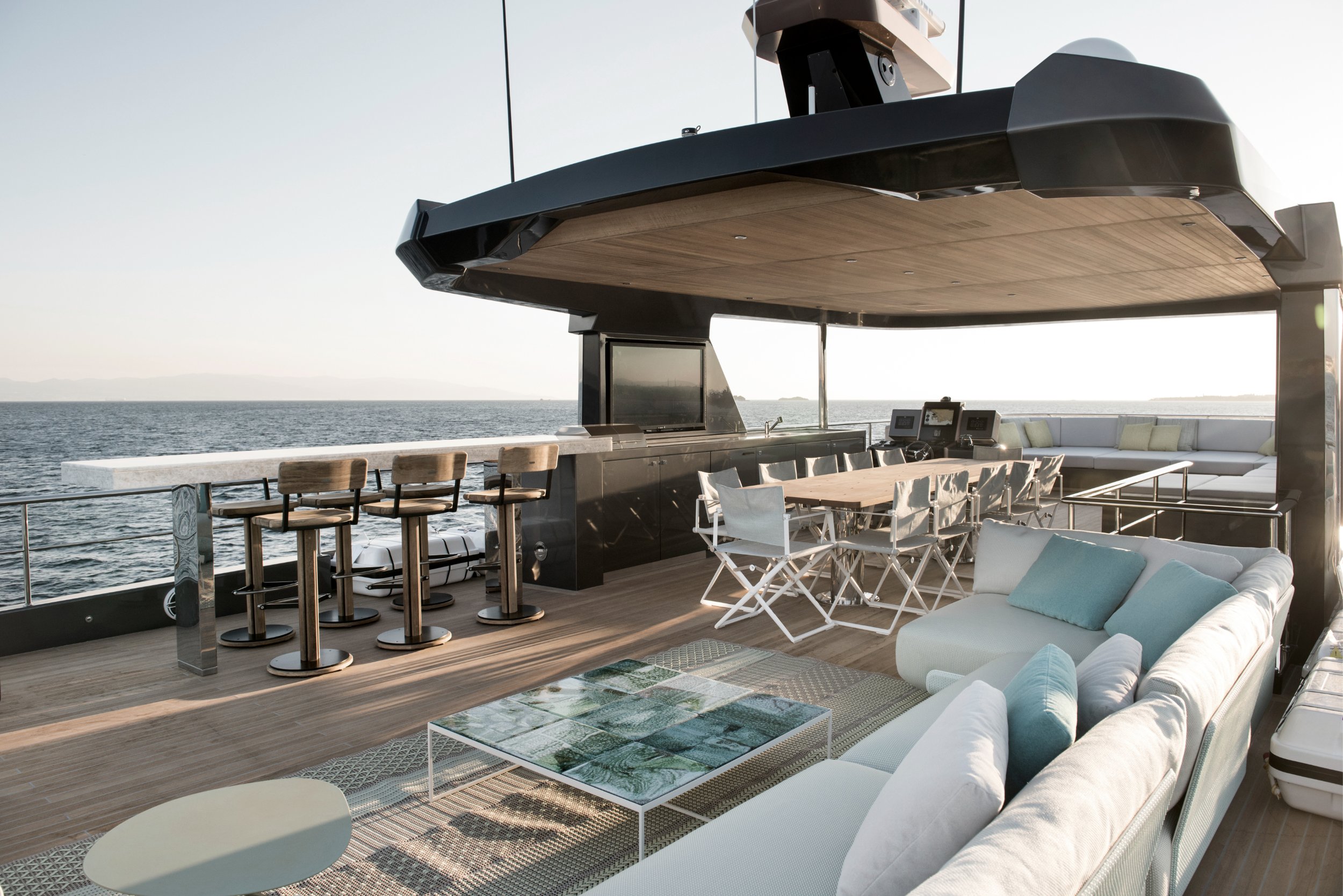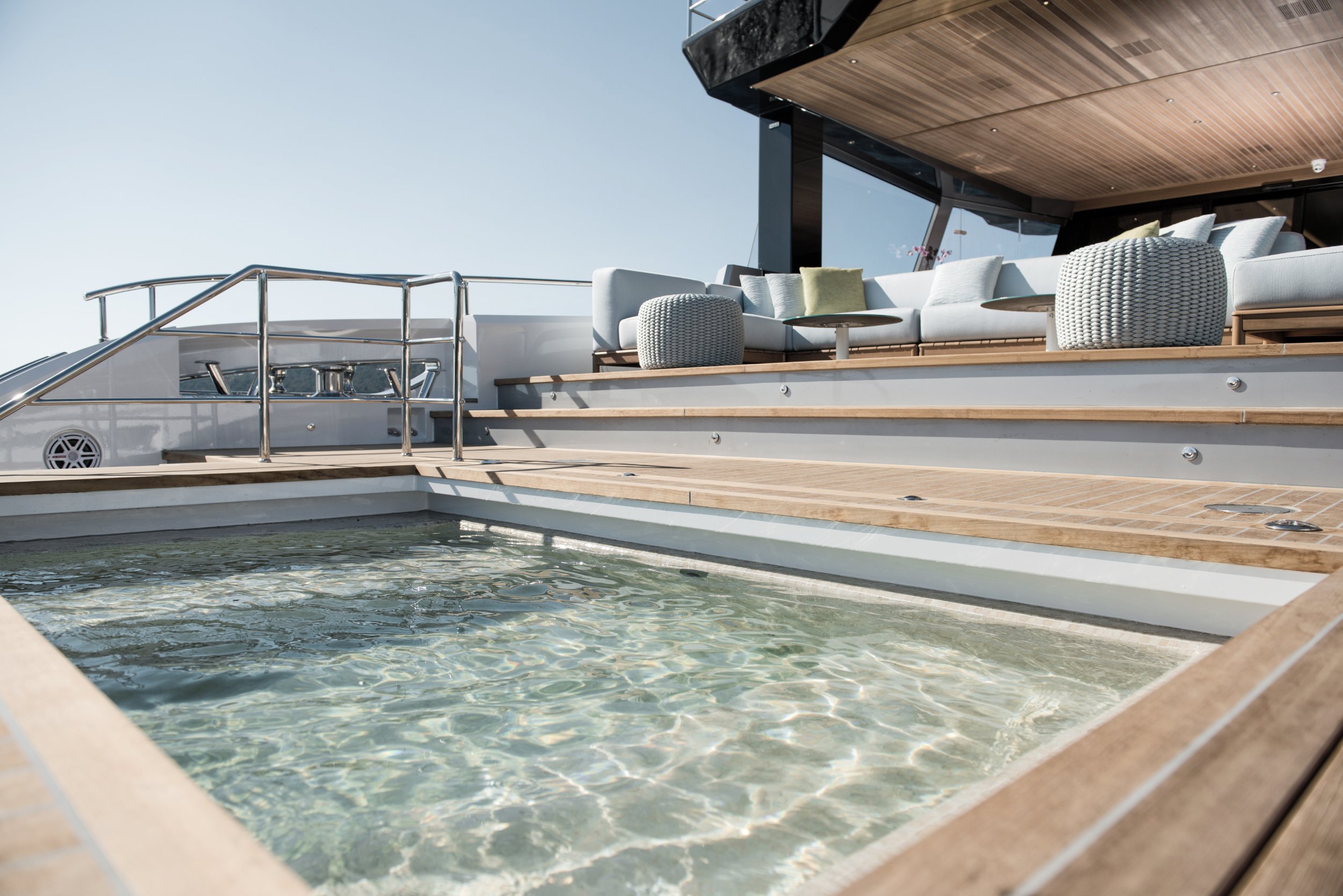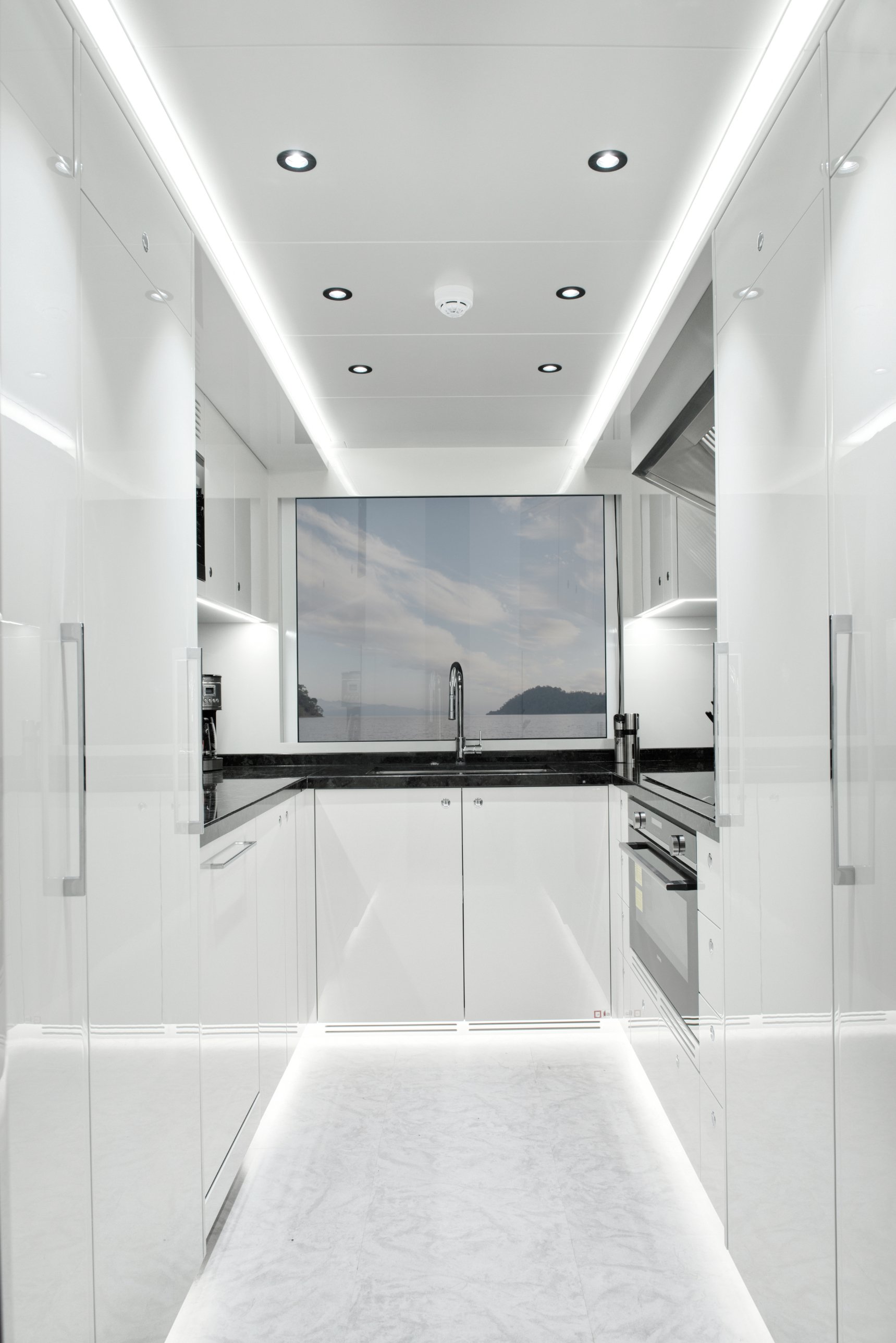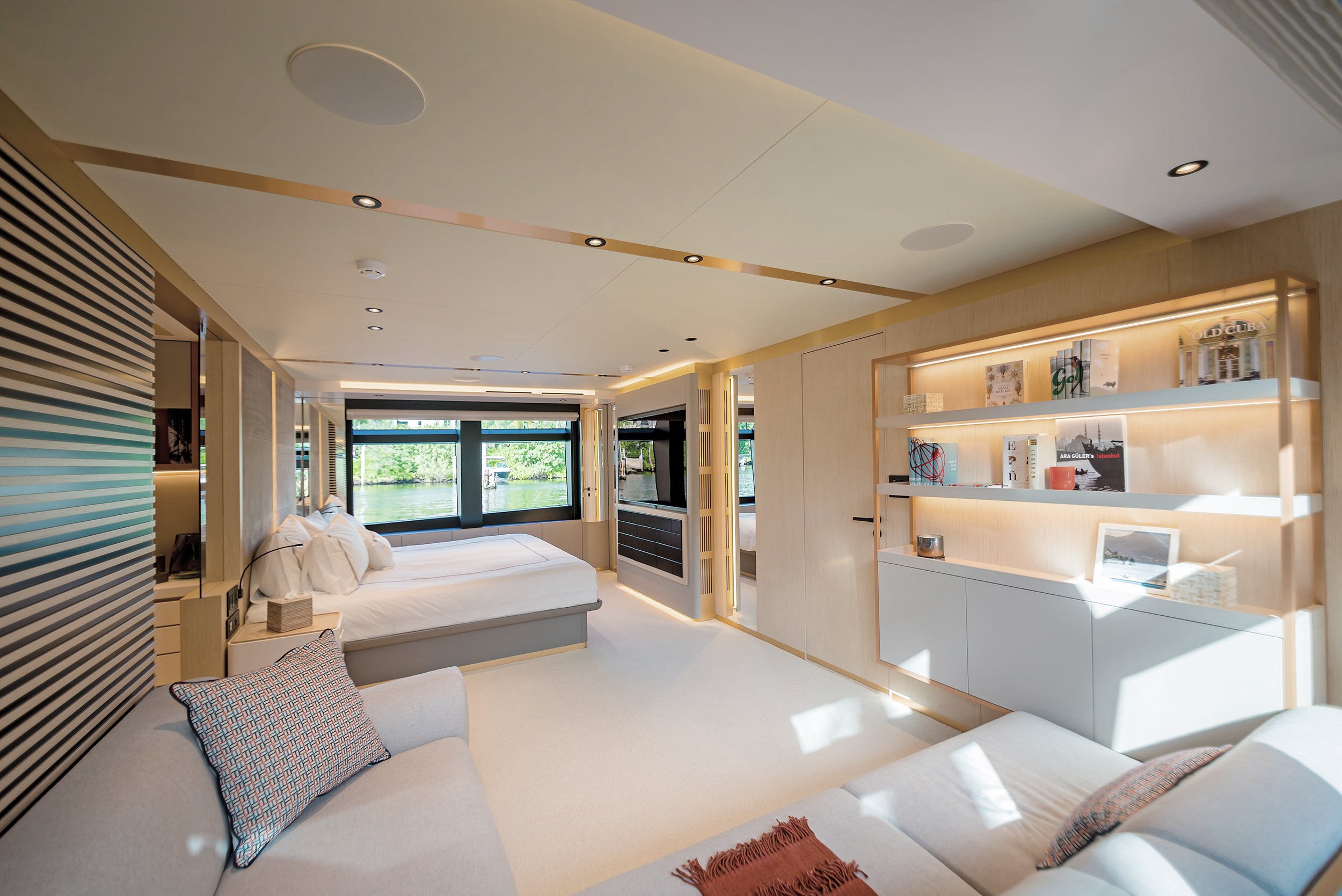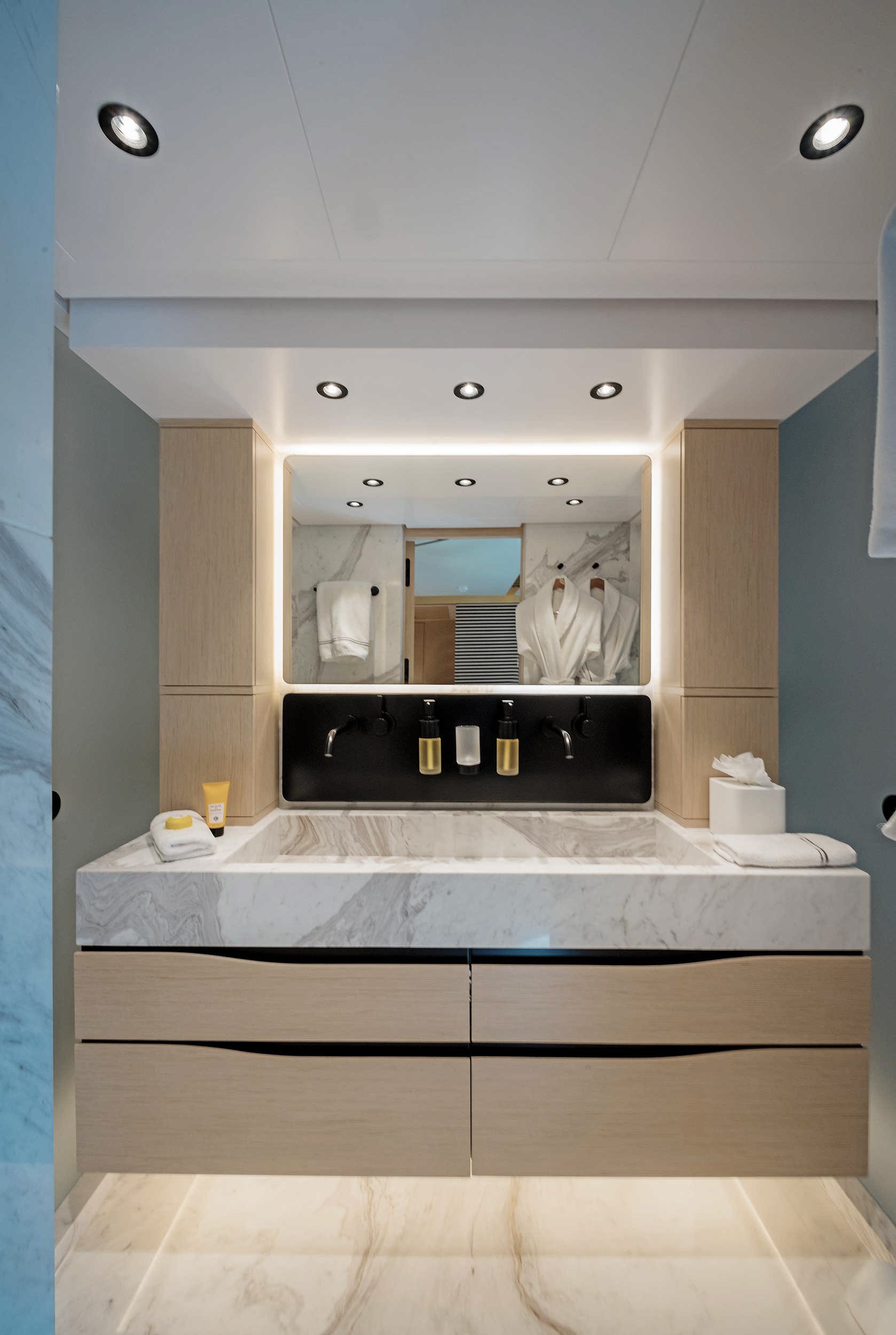 | | | |
| --- | --- | --- |
| Interior Design: | Giorgio M. Cassetta Design | |
| Interior Decoration: | Paola Aboumrad | |
| Naval Architect: | Laurent Giles Naval Architects | |
| Engineering: | Shipyard / Laurent Giles Naval Architects | |
| | | |
| --- | --- | --- |
| Water | 1,135 U.S. Gallons (4,300 liters) | |
| Waste Water | 1,056 U.S. Gallons (4,000 liters) | |
| | | |
| | | |
| | | |
| | | |
| --- | --- | --- |
| Length Waterline | 91' 2" (27.8 meters) | |
| Max Beam | 26' 8" (8.15 meters) | |
| Draft | 5' 7" (1.70 meters) | |
| Displacement at Full Load | 268,964 lbs. (122 tons approx.) | |
| Gross Tons | 196 GT approx / 216 GT with enclosure | |
| | | | |
| --- | --- | --- | --- |
| MAN V8 1000 HP (as stated above) | 15.5 kn | 14 kn | 10 kn |
| MAN V8 1300 HP | 16.5 kn | 15 kn | 10 kn |
| Speed | 10 kn | 1,800 n.m. | |
| | | |
| --- | --- | --- |
| Owners & Guest | 10 persons in 5 cabins and 5 bathrooms + day head | |
| | | |
for more specifications
Download the Brochure
request a contact
Inquire with our team